From 11 to 13 October 2017, the international research conference Religious Minorities' Self-Representations: Claims of Difference and Sameness in the Politics of Belonging was hosted by the Department of Philosophy and Religious Studies at Utrecht University. The aim of this conference was to explore how dominant perceptions of specific religious minorities feed into the ways in which these minorities represent themselves and/or their religion. In a series of blog posts, different conference participants write about their research. In this blog, Laura Mora explores how Muslim women's hijab fashion selfies may challenge Islamophobia while concurrently reinforcing a postfeminist notion of empowerment.
Self-representation in hijab fashion selfies
Author: Laura Mora, PhD candidate in Media Communications and Culture at Keele University (UK)
My PhD research focuses on the question how Muslim women represent themselves in hijab fashion selfies and other fashion photos made of them. In these online images, young Muslim women pose in stylish clothing, influenced by Islamic principles on body covering. Through hashtags like #dailyoutfit and #hijabstyle on social media, famous hijab fashion bloggers such as Dina Tokio and Habiba da Silva, increasingly inspire millions of young Muslim women around the world to shape their (outward) Islamic feminine identities. They are widely perceived as role models and some commentators claim that they make it easier for other Muslim women to wear the hijab at a time when Islamophobia is running rampant. As scholars like Lewis (2013; 2015), Moors (2013) and Tarlo (2013) explain in their writings, hijab fashion enables young Muslim women to construct their subjectivities as being both modern and religious. Hijab fashion images on social media radiate Muslim women's desire to celebrate their experiences, cultures, creativity, identity, religion and beauty. Although many Muslim women feel empowered by this online subculture, certain aspects of it, however, may hinder its empowering potential. These aspects are hence worth investigating.
To me, hijab fashion selfies should not be studied in a vacuum, but rather in the context of Islamophobic narratives that focus on Muslim women's appearance and assumed oppression. Recent studies by van Es (2016) and others (cf. Ryan, 2011; Bracke, 2011; Lewis, 2013), demonstrate that many Muslim women attempt to counter Orientalist or Islamophobic stereotypes through many different means, including social media and fashion. In a recent publication, Suleiman (2017) fleetingly uses the term "hyper-counter" to refer to the pressure that Islamophobic discourse puts on young American Muslim women to counter assumptions made about their religion and ethnicity, and consequently, to try to fit into mainstream culture at the expense of observing their own personal and religious value systems. It is unfortunate that Suleiman does not elaborate further on his definition of this rather useful term. For the purpose of my research, I understand hyper-countering to allude to Muslim women's—both conscious and unconscious—efforts to counter Islamophobic stereotypes on a wide scale and at a semi-instantaneous or fast pace, in a somewhat reactive way to the dominant culture's expectations.
As previously mentioned, one of the tools Muslim women use for hyper-countering is fashion. That is because the acceptance of Muslim women's dress is often linked to how modern or aesthetically appealing their outfits are in relation to societal norms (Moors, 2009). However, the idea that Islamophobia can be countered and the hijab normalised through physical beauty is usually viewed as problematic from a feminist standpoint. This idea not only raises questions pertaining to the actual impact fashion has in fighting Islamophobia, but also in relation to the ways in which the reproduction of gender norms in hijab fashion images could raise the bar even higher with regard to standards that Muslim women are expected to live up to. Nesrine Malik, a London-based Muslim woman writer, illustrates these standards in her article: "The grotesque prejudice and violence against Muslims has created a counter push where only positive, stylized, aspirational, attractive, overly feminized, bourgeoisie Islam has flooded the zone." My study explores whether or not such kind of femininities described by Malik are dominant in hijab fashion selfies.
Mipsterz
The idea of my study was motivated by the Mipsterz video, in which fashionable Muslim hipster women can be seen skateboarding, taking selfies and doing other leisure activities, while wearing hijab. The video has stirred up a welter of criticism and debate since its release in the winter of 2013–2014. Some of its critics argued that the women featured in the video looked too Western and objectified. Others raised concerns over American Muslims' 'obsession' with appearing normal, and the assumption that hipness seems to be the new equivalent for 'true American' or 'moderate Muslim'. Conversely, the video was praised by many for showcasing diverse and emancipated identities of Muslim women, to which young Muslim women can relate. Journalists, bloggers, academics and the public at large—both Muslim and non-Muslim—cheered how the 'hipness' and 'normality' of the women in the video shattered Islamophobic stereotypes. An academic study, which examined the Mipsterz video, has even concluded that it constitutes an empowering form of Muslim postcolonial feminist activism (Golnaraghi and Daghar, 2017).
In the context of hijab fashion, I regularly come across similar statements about the relationships between hijab fashion, empowerment and countering stereotypes. An example can be drawn from an article by hijab fashion blogger Melanie Elturk, in which she states that: "I believe in the power of fashion … it'll be one of the many outlets in which we make a cultural shift in today's society to normalize hijab in America—to break down stereotypes and demystify misconceptions". This kind of statements which link hijab fashion with empowerment and countering stereotypes, made me wonder: what does empowerment mean in this discursive context? Which stereotypes do hijab fashion selfies shatter, if at all? Are Muslim women's (beautiful and happy) self-representations to be considered critical and revolutionary interventions in terms of how they are portrayed? Or do these interventions challenge Islamophobia while, for example, concurrently reinforcing certain other norms such as sexism, colourism, and/or classism?
Self(ie)-empowerment
Contrary to Orientalist and Islamophobic stereotyped representations of Muslim women in certain media outlets, social media allow Muslim women to express and represent themselves on their own terms—for example as beautiful, modern and emancipated. Muslim women's use of social media as a tool for resistance is a trending object of analysis in academia, and, therefore, key discussions focus on the term 'empowerment', which is part of a wider turn to studying (religious) women's agency, choice and empowerment (Gill and Donaghue, 2013). Often, women's efforts to produce media content are seen as an a priori form of empowerment. However, some scholars, such as Dobson (2015), contend that the consequences for individuals who participate in social media 'freedoms' nowadays involve submitting to new control mechanisms. Consequently, Barnard (2016) argues that the self(ie)-empowerment discourse should be challenged, especially in the context of today's prominent attention economy and neoliberal postfeminist logic.
Postfeminism is a gendered manifestation of neoliberalism that offers a paradoxical kind of femininity, argues Gill (2008). It teaches, for example, that women can acquire empowerment through physical beauty, consumer choices and a constant improvement of the self. On social media, postfeminism increasingly depends on such self-representational techniques as Instafame, microcelebrity and entrepreneurial femininity (Marwick, 2015; Duffy and Hund, 2015). Postfeminist rhetoric defines empowerment "in terms of personal acts rather than collective struggles" (Gill and Donaghue, 2013), and hence functions as a de-politicised and not-so-empowering substitute for feminism (McRobbie, 2009). Therefore, if the majority of hijab fashion selfies happen to contain elements of postfemininity (Genz, 2009) or refer to postfeminist notions of empowerment, this might be problematic for Muslim women's struggles for better, fairer and more inclusive representations. In my research, I investigate this possibility, as well as its implications, through a visual media analysis of hijab fashion bloggers' selfies and photos in addition to conducting in-depth interviews with young British Muslim women. In the process, I explicate on why postfeminism is so appealing yet possibly problematic for Muslim women in an Islamophobic context, in order to contribute to developing intersectional and feminist-grounded notions of empowerment.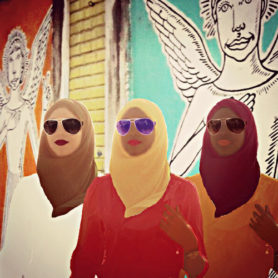 Illustration design by Laura Mora
Further reading
Barnard, S. R., 2016. Spectacles of Self(ie) empowerment? Networked individualism and the logic of the (post) feminist selfie. Studies in Media and Communication, 11, pp.63-88.
Bracke, S., 2011. Subjects of debate: Secular and sexual exceptionalism, and Muslim women in the Netherlands. Feminist review, 98(1), pp.28-46.
Dobson, A. S., 2015. Postfeminist digital cultures: Femininity, social media, and self-representation. Palgrave Macmillan.
Duffy, B.E. and Hund, E., 2015. "Having it all" on social media: Entrepreneurial femininity and self-branding among fashion bloggers. Social Media+ Society, 1(2).
Genz, S., 2009. Postfeminism. Edinburgh University Press.
Gill, R., 2008. Culture and subjectivity in neoliberal and postfeminist times. Subjectivity, 25(1), 432-445.
Gill, R. and Donaghue, N., 2013. As if postfeminism had come true: the turn to agency in cultural studies of 'sexualisation'. In: Gender, agency, and coercion. Palgrave Macmillan UK, pp.240-258.
Golnaraghi, G. and Daghar, S., 2017. Feminism in the Third Space–Critical Discourse Analysis of Mipsterz Women and Grassroots Activism. In: Feminists and Queer Theorists Debate the Future of Critical Management Studies (pp. 103-127). Emerald Publishing Limited.
Lewis, R. (ed.), 2013. Modest fashion: Styling bodies, mediating faith. IB Tauris.
Marwick, A.E., 2015a. Instafame: Luxury selfies in the attention economy. Public Culture, 27(1 75), pp.137-160.
McRobbie, A., 2009. The Aftermath of Feminism: Gender, Culture and Social Change. London: Sage.
Moors, A., 2009. The Dutch and the face‐veil: The politics of discomfort. Social Anthropology, 17(4), pp.393-408.
Moors, A., 2013. Discover the beauty of modesty. In: Lewis, R. (ed.), Modest fashion: Styling bodies, mediating faith. IB Tauris, pp.17-40.
Ryan, L., 2011. Muslim Women Negotiating Collective Stigmatization: 'We're Just Normal People'. In: Sociology, 45(6), pp.1045-1060.
Suleiman, O., 2017. Internalized Islamophobia: Exploring the Faith and Identity Crisis of American Muslim youth. Islamophobia Studies Journal 4(1).
Tarlo, E., 2013. Meeting through Modesty. In: Lewis, R. (ed.), Modest fashion: Styling bodies, mediating faith. IB Tauris, pp.67-90.
Van Es, M.A., 2016. Stereotypes and self-representations of women with a Muslim background: The stigma of being oppressed. Palgrave McMillan.