This project page introduces 'Dossier Corona' as a part of the Religious Matters in an Entangled World research project. It contains an introduction to the subject and an overview of related blogposts.
Introduction
Dossier Corona was kicked off in the midst of the Corona crisis, in April 2020. It assembles blogs by members of the Religious Matters team, affiliates and scholars from outside. The aim of this dossier is to spotlight the ways in which the spread of the coronavirus, and the measurements taken to curtail it, are apprehended in various religious settings. It also offers a forum for reflexion on how "Corona"- as a total social fact – may trigger new insights for the study of religion, and for our sociological imagination of our entangled world at large.
Click here to read Birgit Meyer's introductory blog "Dossier Corona".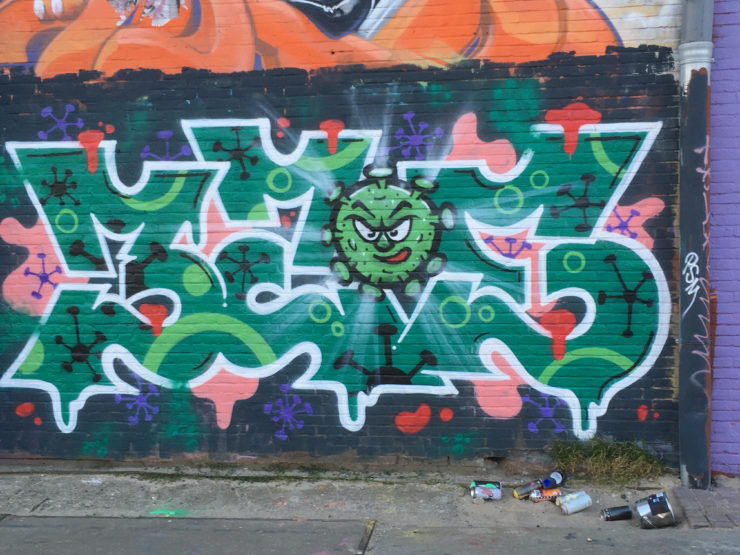 Blogposts in 'Dossier Corona': an overview
In order of appearance
Meyer, Birgit. "Corona en de crisis van de moderne mens".
Hidalgo, Oliver and Alexander Yendell. "The Key Role of Religious Communities in the Covid-19 Pandemic".
Moyet, Xavier. "Appraisals of the discourses of two Nigerian Megachurch leaders about vaccination against Covid-19".
Embaby, Khadiga Mohamed and Amira Mittermaier. "God in Times of Uncertainty".
Kragtwijk, Pippi and Margreet van Es. "Ramadan in Lockdown".
Khetrapal, Nena and Samah Nanda. "Emerging Harsh and Controlling Images of 'God' in Covid-19".
Wassan, Rafique. "Café Saqafat – Sufi music heritage in the times of the Coronavirus pandemic".
De Abreu, Maria José. "On Twisted Logics and the Pandemic".
Bouwhuis, Tim. "Religieuze bijeenkomsten in Coronatijd: discours rond een uitzonderingsregel [II]".
Wagemakers, Joas. "De moskee als weerspiegeling van de maatschappij".
Kroesbergen-Kamps, Johanneke, and Herman Kroesbergen. "Speaking about the virus: the language of war in the Reformed Church in Zambia".
Almeida, Ronaldo and Clayton Guerreiro. "Churches in Times of Pandemics".
Dip, Andrea. "Brazil and Coronavirus: How Denialism, Religious Fundamentalism and Necropolitics has Disproportionally Affected Women".
Lang, Natalie. "Religion and Covid-19 under observation: The Asia-focused research blog CoronAsur".
Meyer, Birgit. "Thinking with the Virus".
Vroom, Annewieke. "Zen Buudhism Going Online (III): Reshuffling Ideas".
Vroom, Annewieke. "Zen Buddhism Going Online (II): Zen Buddhist Monasteries in the Netherlands".
Chua, Liana. "Viral devotionality and Christian solidarity in/beyond Borneo".
Luther Darko, Martin. "Lives versus Livelihoods: The Narrative Behind Ghana's Lockdown".
Vroom, Annewieke. "Zen Buddhism Going Online (I): New Rituals".
Bonazzi, Mauro. "War and words".
Wagemakers, Joas. "Corona: between conspiracy theories and confronting reality".
Van Es, Margreet. "Re-opening Restaurants in Rotterdam".
Ganguly, Tuhina. "Yoga and Immunity in the Time of the Pandemic".
Baumgartner, Christoph. "Freedom of Religion under pressure in times of a Coronavirus-crisis? Some Considerations on Germany and the Netherlands".
Fosu-Ankrah, Joseph – "Pandemic, Prophets, and Policies: Religio-satirical Framing of Fear in the midst of 'Corona' in Ghana"
Ibrahim, Murtala – "Coronavirus is a Ghost of the West": Conspiratorial Explanations of the Covid-19 Pandemic among some Religious Leaders in Nigeria
Alhassan Adum-Atta, Rashida – Covid, Food and Ramadan in Madina, Ghana
Schlatmann, Annemeik – Not Shaking Hands: The New Normal?
Bouwhuis, Tim – Religieuze bijeenkomsten in Coronatijd: discours rond een uitzonderingsregel (NL)
Stolow, Jeremy – Some Notes on the Visualization of the Pandemic Body
Ntewusu, Samuel Aniegye and Samuel N. Nkumbaan – Fighting Covid-19: Interventions from Ghana's Traditional Priests
Khamis, Kauthar – Waiting for God in times of Covid-19: The case for 'quarantined' beauty parlours in Madina Zongo
Meinema, Erik – 'Quarantine is Godly', but in the fight against Corona, 'the devil is in the details'
Dijkstra, Veerle – Going Online: How Corona Transforms Christian Worship
Toniol, Rodrigo – Temporalities of the pandemic and a proposed research agenda about religion
Strijdom, Johan – Vulnerabilities and Interventions in Times of Corona: Bodies, Food and Religion in South Africa
Klassen, Pamela E. and Janelle S. Taylor – Communicating Faith in Science
Larkin, Brian – Masks in the Time of Coronavirus
Kroesbergen-Kamps, Johanneke – Mediating the presence of God online
Veer, Peter van der – Global Breathing
Shetty, Rashmi – Coronasur: A Double-layered Iconoclash
Goshadze, Mariam – When Secular Discourse Outshines Secular Practice: Georgia's Alleged "Spoon Worshippers" and the Proto-Secular State
Meyer, Birgit – Studying Religion in Times of Corona
Meyer, Birgit – Dossier Corona
Grossi, Angelantonio – Religion on lockdown: on the articulation of Vodu, media and science
Kwabena Asamoah-Gyadu PhD, J. – Dealing with a Spiritual Virus: Whither the Prophetic?
Hemel, van den Ernst – Of Pandemics and Passions: Virtual Choirs and Collective Healings
Jazi, Arash – The Facial Crisis of Shiite Iran
Morgan, David – Religion and Humor in the Time of Pandemic
Kuyk, Elza – Candles for Earthlings & The World After
Tamimi Arab, Pooyan – On Secularization and the Coronavirus in Iran