Kauthar Khamis
Anthropologists (Janeja and Bandak 2018) argue that waiting is an important aspect of every society. The ethnographies of waiting shed light on the socio-cultural context of a group of people. Waiting is an integral part of everyday life; people wait for a sick person to be healed, election results, food to get ready, the outcome of a football match, for independence etc. This implies that human life is entangled with different forms of waiting at every point in time. This is why anthropologists contend that in order to understand the socio-cultural context of a society, it is important to pay attention to what people do in times of waiting. Waiting is not a motionless state of being, it is characterized by series of activities which can range from active to pervasive forms. In Ghana, Reinhardt (2018) maintains, waiting has ethical, spiritual and eschatological connotations, it projects into the future and directs it into the hands of God.
Presently, the whole world is forced into a state of waiting because of the Corona-virus pandemic. Nations continue to wait for science and religion to come out with a cure or solution to the global pandemic. Various countries find themselves employing different modalities of waiting because according to health experts, no drug has been identified yet to fight COVID-19, even the World Health Organization (WHO) is waiting to find a cure. They have resorted to advising nations to adhere to a number of protocols in order to prevent the spread of the disease while efforts are made to find drugs and vaccines.
Zongo Beauty Parlours in times of COVID-19
After Ghana recorded its first case of COVID-19 on 12 March 2020, the President advised that the protocols issued by the WHO should be followed by all persons. In addition, a ban was placed on all social and religious gatherings and schools were also shut. As the number of cases continued to increase, some parts of the country (Accra, Tema, Kasoa and Kumasi) were locked down. All economic activities were halted with the exception of 'essential services' such as healthcare, food value chain sector, construction among others. Some economists had argued that the pandemic will have serious repercussions on most businesses in the country. Certainly, it has and one of such business entities which has been hard hit is the beauty parlour work. Most of the shops were shut even before Ghana went into lockdown.
For instance In Madina Zongo, where I conduct research in the framework of the Madina project, beauticians could no longer operate because the beauty industry is not an 'an essential service'. Unfortunately, they could not also employ a 'work from home' strategy adopted by some work groups, including the media, as a way of adhering to the physical distancing protocol. The fact is that beauty parlours are described as a 'bodily contact zone', where individuals get into contact with parts of the body such as face, hands and feet. In this situation, since the services of beauticians require some degree of intimacy, both the beauticians and their clients had no option but to 'quarantine' beauty parlours, as the provision of beauty services could easily lead to the spread the disease. Moreover, as a result of the ban on both social and religious gatherings, most women had no ceremonies to attend, and therefore did not need to go to parlours for services such as facial makeup.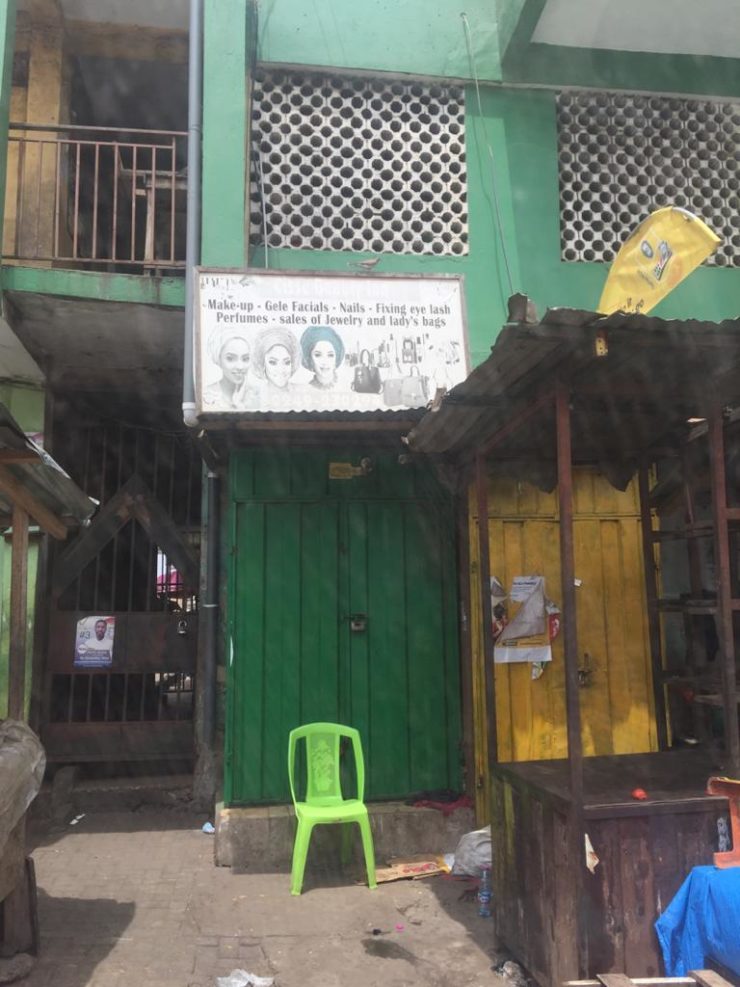 A beauty parlour in Madina during the lockdown period (photo Rashida Alhassan Adum-Atta)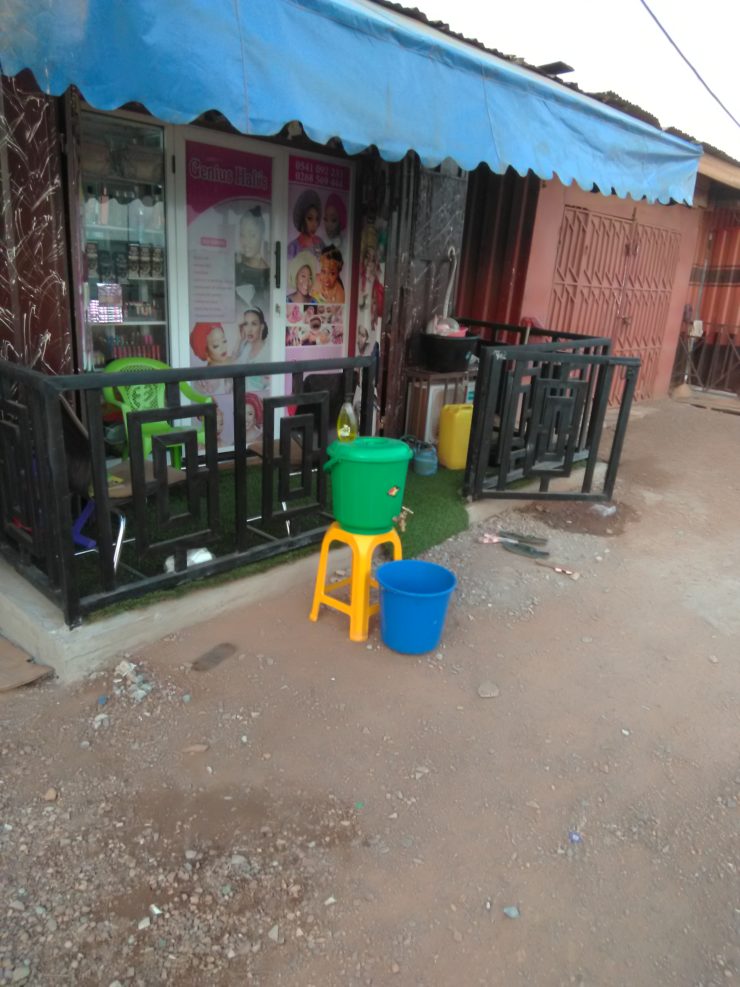 A veronica bucket (hand washing unit) positioned in front of a beauty parlour in Madina, after the lockdown (photo Kauthar Khamis).
Zongo Beauticians Wait for God
The impact of the 'quarantined beauty parlours' resulting from COVID-19 on beauticians cannot be overstated. Beauticians in the Zongo continue to count their losses and hardships. Having lost faith in both political and religious leadership in the country, they are resorting to their own protocols of waiting. Notwithstanding the fact that the government has introduced some interventions to mitigate the effects of the pandemic, beauticians in the Zongo could hardly have access to these interventions. Apart from the three months' free electricity for life line consumers (these are poor people who consume less than fifty units of electricity monthly) and the 50% reduction for other consumers, which will be beneficial to them as beauticians, they have not received other packages such as food, veronica buckets, face masks and hand sanitizers. To worsen their plight, these beauticians are not registered, making it difficult for them to access the soft loans from the stimulus package of 600 million Ghana Cedis granted by the government to small and medium scale enterprises (SMEs) under the Ghana Union of Traders Association (GUTA). This could have cushioned them to at least pay for the spaces they have rented.
Failure to find solace from the government, beauticians in the Zongo had hopes that something positive would come from religious groups including churches and mosques, especially having learnt that they had made donations to the government's COVID-19 National Trust Fund. In my interaction with one of the beauticians in the Zongo, she complained bitterly that their religious leaders continue to publish mobile money contacts and bank accounts on social media for the payment of offerings during online church services. She lamented that most of them have been pushed out of business and are finding it difficult to make a living and yet these religious leaders are making huge contributions to the COVID -19 National Trust Fund and other support systems set up by the government, ignoring the plight of ordinary members in their congregation. There have been donations both in cash and kind from a number of religious organizations including the Catholic Bishop's Conference, Church of Pentecost and the Muslim Leadership. Beauticians in the Zongo would have wished that a percentage of these donations is earmarked for the small-scale enterprises including them, instead of giving everything to the government, from whom they will not get their share because they are not registered. In another development, Asamoah-Gyadu indicated that prophets in Ghana have failed Ghanaians for not being able to predict the occurrence of COVID-19, but were able to prophesize the death of influential people within the country ("Dealing with a Spiritual Virus" on Religious Matters). Meanwhile, the leader of the Church of Pentecost, Apostle Eric Nyamekye has hinted that they saw COVID-19 coming in a dream but the revelation was not clear. He indicated that the Church of Pentecost in addition to making cash donation to the government's National Trust Fund, donating Personal Protective Equipment(PPE), releasing some of its buildings(5 blocks) located at Gomoa Fete to be used for purposes of quarantining people who have been tested positive for the disease as well as releasing some vehicles to the National Commission for Civic Education to be used as information vans for educating people about the disease, the church has set up a Local COVID-19 Trust Fund, raising an initial amount of 51,000 Ghana Cedis. This would be used to alleviate the plight of members affected by the impact of the pandemic.
With not much hope from government and religious leaders, Zongo beauticians have no option but to wait while hoping for God's intervention. In this situation, fasting and prayer plays an important role in waiting. This involves calling upon God to take charge in circumstances that are beyond human control. Fasting and praying give hope to people in times of uncertainties. Even the President of Ghana had to call for people to pray and fast while adhering to the safety protocols advised by the WHO. This was after he invited Christian and Muslim leaders to the seat of government to pray for protection against the disease. Meanwhile, beauticians were not left out in this exercise. When I visited one of my informants, sister Samira on 26th March, a day after the president asked Ghanaians to fast, she was fasting and lamented on how the disease had affected her business. However, she questioned the authority of the President, a Christian, asking the whole nation (including Muslims) to fast for a day; rather she decided to fast for three days. She was hopeful that by the time Ramadan begins life would have come back to normal. Even though this did not materialize, she is still fasting in the month of Ramadan, with the hope that life returns to normal by the end of the Ramadan fast.
Beyond fasting and prayer, wearing a face mask has been identified as the best approach to curtail the spread of the Corona-virus, taking into consideration the socio-cultural context of the Ghanaian community. It is recognized as a better option to the social distancing approach used by most Western countries (The Africa Report). This is because using a face mask prevents the transmission of fluids from an infected person to another in their everyday encounters. In this vein, the government has advised that all persons must wear a mask when they go out just as doctors and other frontline health personnel do in hospitals. Meanwhile to make these masks available, the government encouraged private individuals to produce African print face masks that can be used by the general public. Even though some private individuals and firms have heeded to government's call, there is no doubt that this protective gear has also become a fashionable item, making people to rush for them. With the rise in demand for these African print face masks, their prices are beginning to rise with some being sold for as much as five Euros. This may be the reason why a beautician, and also other women in Madina, have resorted to the use of hijab, niqab (face veil), scarves and handkerchiefs as face masks. Thus, beyond using veils and niqabs as identity marker of Muslim women in the Zongo, these accessories are beginning to gain acceptability within the public space as practices meant to protect oneself and others in the community against a common enemy, COVID-19. In fact, niqab is actually gaining a wider acceptability among Muslim women in Madina who were formally not niqab wearers, to the extent that some Christian women have expressed interest in wearing it since they find it difficult to breathe when using the locally made face mask.
Veil and niqab used as face mask (photos Kauthar Khamis)
As beauticians in the Zongo continue to wait for God's intervention by fasting and praying as well as adhering to the various safety protocols, they believe that COVID-19 has taught them to take precautions associated with their profession more seriously, by making the use of face masks and hand gloves an important practice when providing beauty services. Despite the fact that restrictions on movement have been removed, the beauty industry is yet to fully recover owing to the fact that it is regarded as a 'bodily contact zone'. Even though beauticians are adhering to the safety protocols, most clients continue to avoid their services due to the difficulty in maintaining physical distancing. Notwithstanding this challenge, they are hopeful that the industry will definitely bounce back with more innovations, including head covers with their face masks.
From left to right: (1) Head cover with a mask. (2) Idem. Garden City big ladies discover face mask fashion for Covid-19 (Copyright Business Day, April 2020, URL source).
Kauthar Kamis is a PhD-candidate in the Madina Project.
This blog is a part of 'Dossier Corona', introduced by Religious Matters in the spring of 2020.
Acknowledgements
My appreciation goes to Birgit Meyer, Martha Frederiks, Rabiatu Ammah and Manpreet K. Janeja for their thoughts and comments. Thanks to Rashida Alhassan Adum-Atta for the picture of a beauty parlour during the lockdown.
References
Janeja, Manpreet K. and Andreas Bandak, eds. (2018). Ethnographies of Waiting: Doubt, Hope and Uncertainties. London: Bloomsbury Publishing Plc.
Janeja, Manpreet K. (2018). Waiting and not Waiting. The Newsletter, International Institute for Asian Studies, 81: weblink.
Reinhard, Bruna (2018). Waiting for God in Ghana: The Chronotopes of a Prayer Mountain. London: Bloomsbury.