Please join us on 14 February for the one-day symposium Islam and Contested Visual Culture! This event is open to the public.

Jamal Elias (University of Pennsylvania) will speak about images, emotions, and outrage. Christiane Gruber (University of Michigan) will present her latest work on imaging Islam in virtual reality. There will be a book presentation of the forthcoming volume Provocative Images in Contemporary Islam, and from our department presentations by colleagues Arash Ghajarjazi and Asghar Seyed-Gohrab on visual culture and Omar Khayyam.

Please register by sending an e-mail to Pooyan Tamimi Arab (p.tamimiarab@uu.nl). See below for the programme.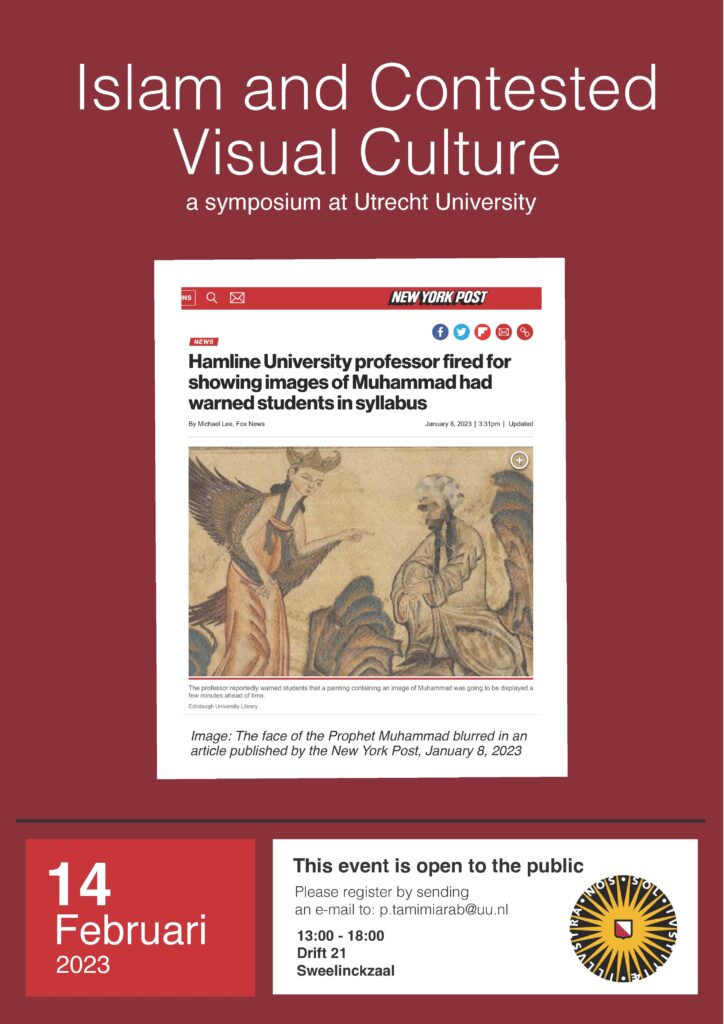 ***
Public Programme 14 February
13:00–13:10 Welcome
13:10–13:30 Introduction: Pictures That Divide
Pooyan Tamimi Arab
13:30–14:30 Images, Emotions and Outrage: Struggles in Self Representation and Meaning Making
Jamal J. Elias
14:30–15:00 Book Presentation: Provocative Images in Contemporary Islam
David Kloos, Leonie Schmidt, Mark Westmoreland, and Bart Barendregt
15:00–15:15 Coffee break
15:15–16:00 Visualisation of ʿUmar Khayyām's Quatrains in the Late 19th Century
Arash Ghajarjazi
16:00–16:45 'And Thou beside me singing in the Wilderness': The Beloved's Gender in Word and Image
Asghar Seyed-Gohrab
16:45–17:00 Coffee break
17:00–18:00 Mosques, Museums, and the Metaverse: Imaging Islam in a Virtual Reality
Christiane Gruber
18:00–18:45 Drinks
***
Date: February 14, 2023
Time: 13:00–18:00
Venue: Drift 21, Sweelinckzaal
Utrecht University