Cristina Rocha
For a while now I have been researching Christianity and popular culture. I have been struck by how much mainstream, middle-class, and visible Pentecostal and Evangelical Christians have become. Long gone are young Christians' dorkiness and aversion to youth cultures. Fashion is an important part of this transformation. While Pentecostal pastors have adopted high fashion, from Gucci to Burberry and Dolce Gabbana, megachurches and Christian celebrities and designers have been creating and selling their own fashion lines. The latter usually adopt what is called 'streetwear' style – T-shirts, hoodies, sweatshirts, baseball caps, sneakers.  
I suggest that middle-class young Christians have adopted a 'cool look' as a way of participating in youth cultures, becoming relatable and spreading the message.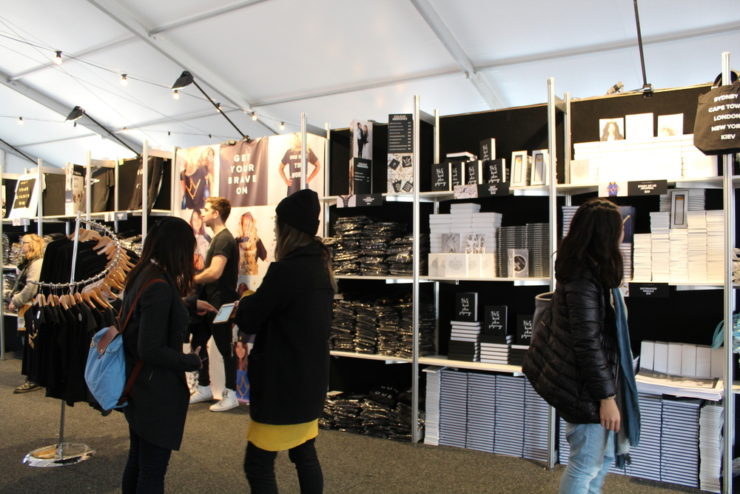 Hillsong Shop
For instance, during the Australian megachurch Hillsong annual conference in Sydney in 2017, I dropped by the Hillsong shop. The large marquee shop was situated across the Olympic Arena where the conference was taking place. As I walked in, I became immersed in Hillsong music and faced with countless stalls selling everything conceivable, all nicely made and emblazoned with the church's logo, positive affirmations, or snippets from the bible. There were stalls offering T-shirts, sweatshirts, beanies, leather bags, baseball caps, all sorts of bibles (manga-style, magazine-style, and for men, women, teens, children, and even 'minecrafters'), Hillsong diaries, journals, pens, notebooks, music CDs and DVDs of pastors' services, books by Hillsong pastors and by pastors from other megachurches from all over the world. People, mostly young, were shopping excitedly. Outside they showed what they'd bought to their friends and family, and took selfies with their new stuff. The same merchandise can also be bought at the shops located in the foyers of many Hillsong churches.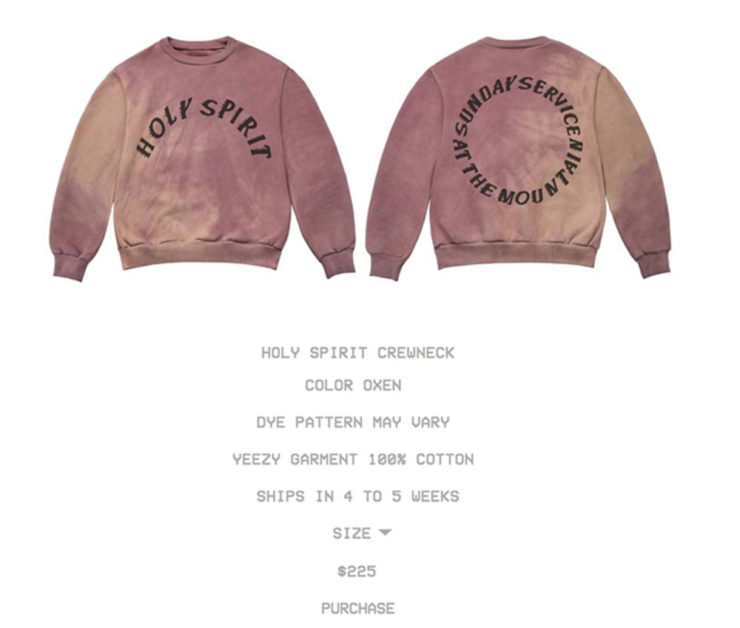 Kanye West's merchandise for the 'Yeezy Sunday Service'
Hillsong is not alone in selling Christian clothes. Celebrity singer/songwriter Kanye West has his own line of Christian streetwear. At Coachella Festival in California during Easter in 2019, he launched a new line of clothing called 'Yeezy Sunday Service.' His merchandise was sold in a pop-up tent called literally 'Church Clothes.' From sweatshirts decorated with the words 'Holy Spirit' selling for US$225, to socks with the words printed 'Church Socks' and 'Jesus Walks' selling for US$50, the goods sold out in minutes. After Coachella, the only recourse for ordinary people to purchase West's church clothes was through online re-sellers adding to the scarcity and thus almost sacred experience afforded by the clothes. Indeed, it seems that West's celebrity status and his own take on Christianity are materialised in his exclusive merchandise.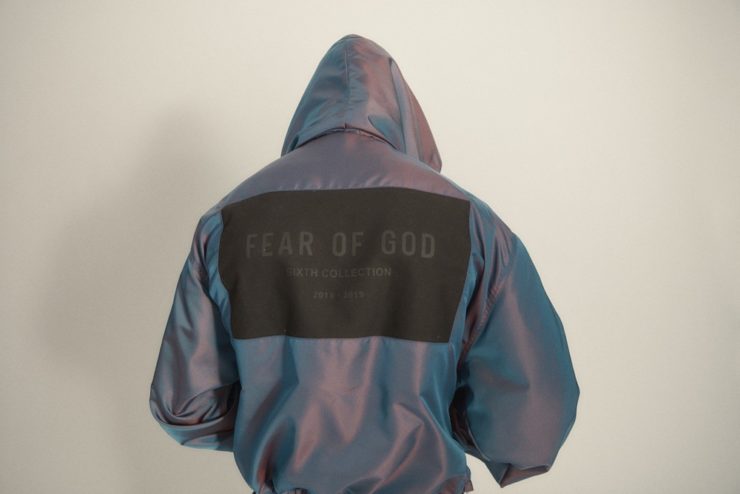 'Fear of God'-merchandise
Before Kanye West, others have pegged on streetwear to create their own Christian line of clothes. For instance, Jerry Lorenzo is the designer behind Fear of God; with 1.7 million followers on Instagram, it is allegedly one of the most influential streetwear labels in the US. Lorenzo notes that his faith informs his creations of Christian luxury goods.
Another successful streetwear designer is Channel Dixon, who created his label Art of Homage in 2015. According to Dixon, his clothes are mean to lead to "meaningful conversations about God…to worship God and inspire others to do the same! One hat at a time. One shirt. One hoodie. One conversation after another, I plan on helping fund some really incredible missions and non-profits that help advance the Gospel."
Therefore, for him it is not so much that clothes are imbued with sacredness, rather that they assist in the Great Commission, in spreading the good news either through conversations or through using the profits to fund missionisation.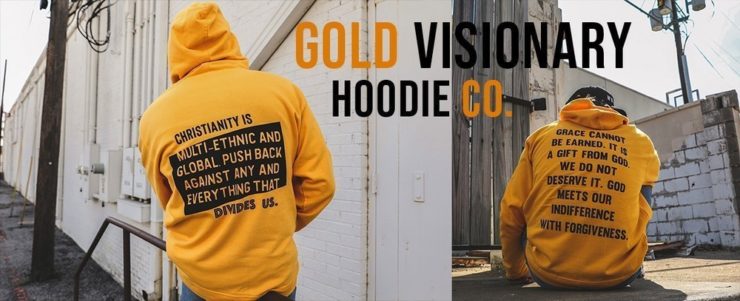 Art of Homage
Unsurprisingly then, in 2019 Hillsong teamed up with Dixon's Art of Homage to produce a line of clothing called 'KNWN.' The rationale behind KNWN is that despite the contemporary pressure for people to become famous (particularly on social media), people are already known and famous to God, and that's what matters.
In all these examples, we can see Hillsong megachurch's and Christian fashion designers' engagement with contemporary themes that are dear to Gen Z—fame through social media, consumption, and fashion, all bundled by what has been called 'Cool Christianity.' Also known as 'Hipster Christianity', this type of Christianity appropriates elements of secular youth and popular cultures, be it dress style, body decoration, trendy graphic design, pop music, celebrity culture, and the methods of the entertainment industry. Adopters of Cool Christianity draw on these material, visible markers of identity and youth culture to display their faith, be able to mingle with non-Christians, and ultimately missionise.
This trend is so pervasive that it easily thwarts attempts to discredit Christian streetwear as a marketing ruse. Take the case of the 'Jesus Shoes,' for instance. In early October 2019, a Brooklyn-based company called MSCHF used the Air Max 97 Nike sneakers to create what they called 'Jesus Shoes.' Daniel Greenberg, the company's head of commerce, noted that after finding out about a collaboration between a tea company and Adidas to advertise their tea on sneakers, they 'wanted to make a statement about how absurd collab culture has gotten' (Barr 2019). In typical hipster-ironic mode, they then imagined a collaboration with Jesus 'one of the most influential figures in history' (Barr 2019). This resulted in them 'soaking' their Jesus Shoes in as many Christian features as they could possibly think.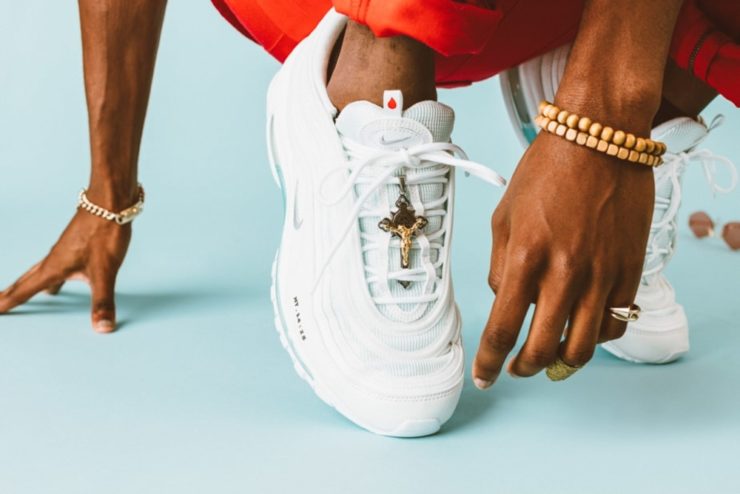 Jesus Shoes
Jesus Shoes' soles are filled with blessed water from the Jordan river where Jesus was baptised, so that people can 'walk on water'; they have red insoles in honour of the shoe colour worn by the pope; they are scented with frankincense, which was given to newborn baby Jesus in the New Testament; a steel crucifix was placed on top of the laces; and the inscription Matthew 14:25 was embroidered on the side (this is the Bible passage that describes Jesus walking on water); the price was set at US$1,425 to reflect this passage of the Bible. The marketing slogan was 'Jesus Shoes, Walk on Water'. Although the product was a joke to show the absurdity of the collaboration in the fashion industry, the Jesus Shoes sold out immediately after the company 'dropped' it. A few days later, Jesus Shoes were being offered online for around US$4,000. They were also extensively featured in the lifestyle and fashion sections of newspapers and on digital media around the world, including in Brazil where many conservative Pentecostal bloggers and pastors thought they were sacrilegious.
Thus while this style of Christianity and its merchandise has currency among the middle-class Evangelical and Pentecostal Christians, it faces obstacles in its expansion into more culturally conservative congregations.
Cristina Rocha
Western Sydney University
Bio
Professor Cristina Rocha was a visting researcher at the Religious Matters Project in the Fall of 2019. She is an anthropologist and the director of the Religion and Society Research Cluster, Western Sydney University, Australia. Cristina is the former president of the Australian Association for the Study of Religion (2018-2019). She co-edits the Journal of Global Buddhism and the Religion in the Americas series, Brill. Her research focuses on the intersections of globalisation, migration and religion. Her publications include: John of God: The Globalisation of Brazilian Faith Healing (Oxford University Press, 2017), winner of the Geertz Prize (AAA); The Diaspora of Brazilian Religions (with M. Vásquez, Brill, 2013), Buddhism in Australia (with M. Barker, Routledge, 2010), Zen in Brazil: The Quest for Cosmopolitan Modernity (Hawaii University Press, 2006).