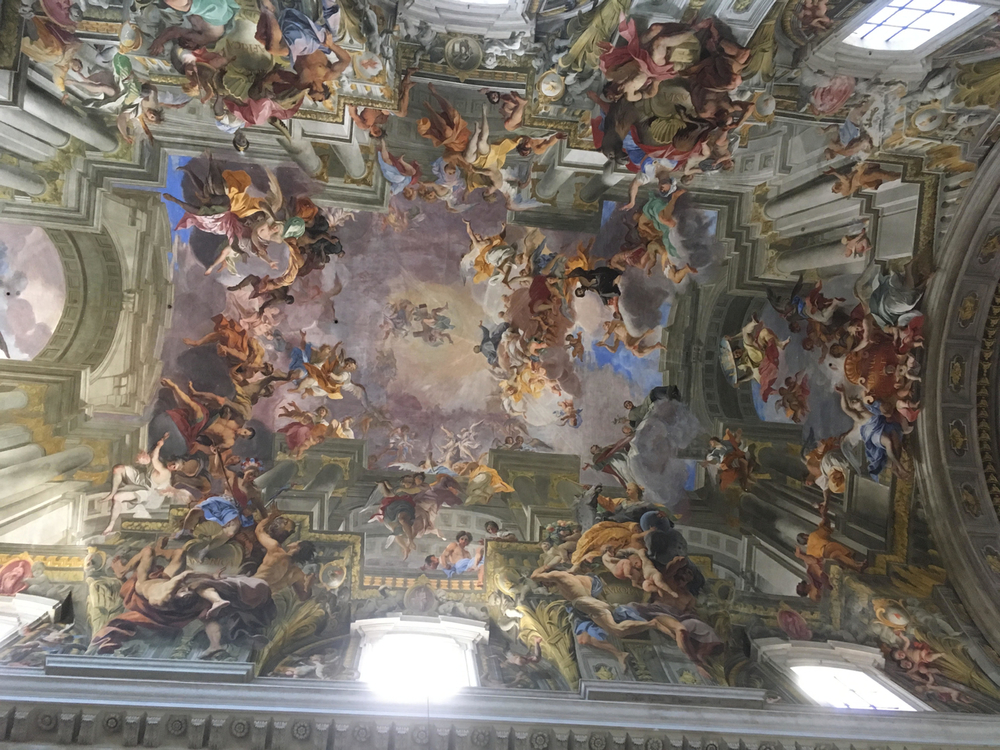 Chiese de Sant'Ignazio di Loyala
Religions and the image question – intensive research seminar at the KNIR
20-27 May 2019
Convened by Birgit Meyer, with lectures by Annalisa Butticci, Machteld Löwensteijn, David Morgan, Pooyan Tamimi Arab and Jojada Verrips
During the month of May I was a fellow at the Royal Netherlands Institute in Rome (https://www.knir.it), where I could conduct a 'master class' around the making, use and authorization of images and the deployment of the imagination in, especially, Christianity in past and present. The city of Rome offers a stimulating site for a detailed scrutiny of the ways in which images have been negotiated in interfaces of art and theology, be it in the Byzantine period, the Renaissance, the Council of Trent and the unleashing of the Baroque. And the KNIR is a phenomenal research institution that can host a large group of students and professors, all working together on a day-to-day basis. Our research seminar was attended by 17 students from the fields of anthropology, art history, religious studies, literature and philosophy (hailing from the University of Amsterdam, Groningen University, Radboud University, Utrecht University, VU University).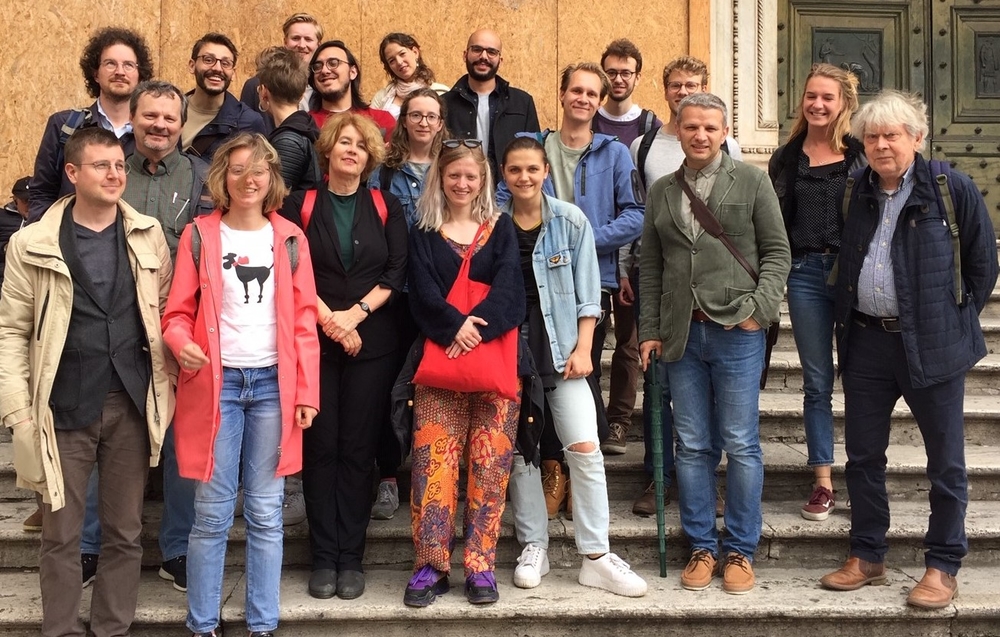 Participants of the masterclass
The idea for the research seminar was grounded in the understanding that religion arguably involves an awareness of a professed unseen that is taken to be existent and yet requires special forms to become manifest to common human sensation. While images are particularly powerful media to achieve this manifestation because they 'promise' to evoke the represented and render it present, their use for imagining and representing the unseen may be heavily contested, and even dismissed as idolatry. The value and use of images is authorized through religious sensational regimes. These regimes are not only expressed via doctrines, beliefs and aesthetics, but are also incorporated in the habitus of religious practitioners. In the Abrahamic spectrum, in particular, the legitimacy of using images to represent the unseen – the image question – has fuelled debates and contestations within and between Judaism, Christianity and Islam, as well as with regard to 'pagan' others. These issues stand central in the new volume Figurations and Sensations of the Unseen in Judaism. Christianity and Islam: Contested Desires coedited by Terje Stordalen and myself (Bloomsbury 2019, to be published in June, click here for a description), which formed one of the resources for our discussions.
Through the lectures and site visits we addressed what we soon pluralized as 'image questions' from various angles. One, grounded in insights from art history and visual culture studies, we problematized the textual bias in the study of religion as well as lingering ideas about the Bilderverbot that still inform modern philosophy and social-cultural sciences, and sought to develop conceptual alternatives and appropriate methods for the study of images (Birgit Meyer, David Morgen). Here it was productive to bring into play various current and past philosophical strands, from new materialism and Latour's ANT, to Hegelian dialectics and Neo-Platonism. Second, we paid close attention to historical and current negotiations of images and visual representations as (un)suitable media to convey the presence of the unseen within Christianity, for instance in the context of the council of Trent (1545-1563) which strove to retain the veneration (not worship!) of images against Protestant assaults (Machteld Löwensteijn), the visual excess of the Baroque in, above all, Jesuit church interiors and the devotion of the Sacred Heart (David Morgan), as well as current African Pentecostal negotiations of Catholic images in Italy, rejecting what is regarded as Catholic idolatry and at the same time appropriating images of the Catholic symbol bank, such as Raphael's Transfiguration (Annalisa Butticci). Third, we focused on conflicts and tensions with regard to a presumed illicit use of images, as in charges of idolatry in encounters between Christian missions and indigenous people in Africa (Birgit Meyer), in art scandals evolving around the three 'neuralgic points' associated with representations of the divine, death and sexuality (Jojada Verrips), and in issues around 'pictures that divide' (Pooyan Tamimi Arab), for instance regarding the visual representation of portraits of the prophet Muhammad, in contemporary highly pluralist societies. In this context we also realized the extent to which especially Christian images have more or less hidden afterlives in contemporary secular popular culture, films and literature. Overall, the presentations and discussions challenged an idea of modernity as simply entailing the decline of religion, and called attention to the complex and complicated relations between religion, politics, art and visual culture in current plural societies. The research seminar ended with a high profile symposium during which the students presented their own 'image questions.' One of the merits of this stimulating week was the broadly shared realization that questions arising around the religion-image nexus require sound interdisciplinary conversation and collaboration. This can only be tackled productively if (upcoming) scholars are prepared to acknowledge both the assets and limits of their own disciplinary backgrounds – and thus to come out for what they do, do not and yet want to know.
Birgit Meyer
See below for an overview of the seminar sessions and readings:
Masterclass: Religions and the Image Question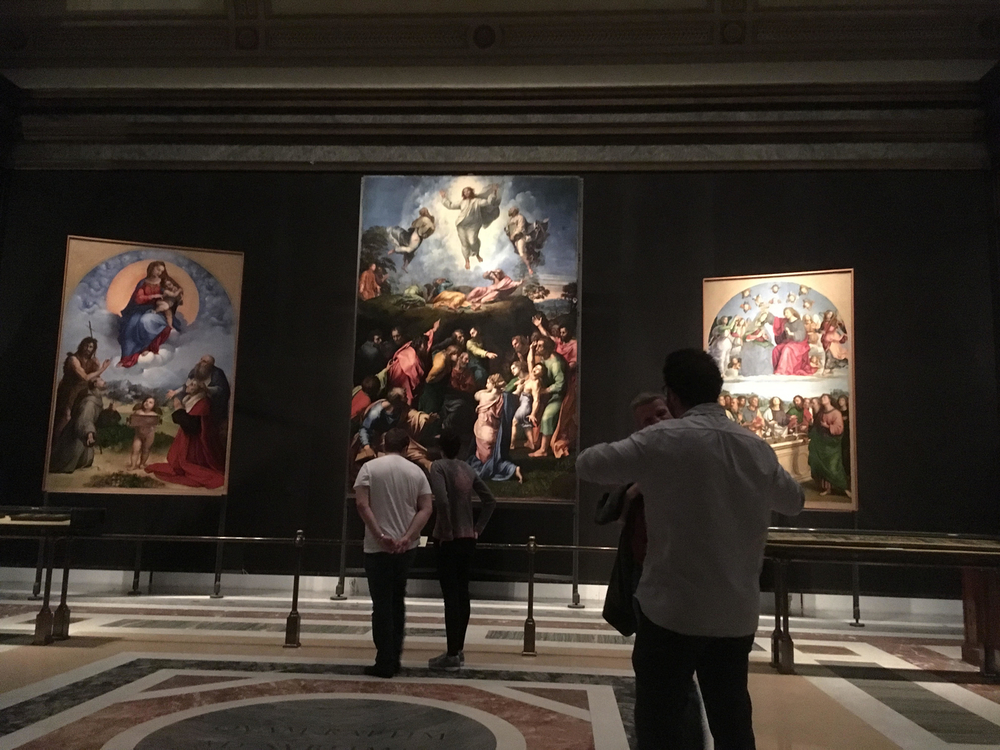 Visiting Raphael's The Transfiguration (1516-20), Vatican Museum
Location: Royal Netherlands Institute Rome, Via Omero 10/12 00197 ROMA (Italy).
Dates: 20 May – 27 May 2019
SCHEDULE AND READINGS
Monday May 20
Arrival in Rome
18.30 Welcome session, introduction of all participants via an image(question)
19.30 Drinks
20.30 Dinner offered by the KNIR, Osteria dell'Orsettto, Via Flaminia
Tuesday May 21
09.00-12.30 (KNIR Aula) Introductory lectures
09.00-10.30 Birgit Meyer: Introduction. Religions and the Image Question
Texts:
Belting, Hans (2016) Iconic Presence. Images in Religious Traditions. Material Religion 12(2): 235–237.
Belting, Hans and Victor Stoichita (fc in 2019). Interview. Balzan Papers. Leo S. Olschki Verlag.
Meyer, Birgit (2015) Picturing the Invisible. Visual Culture and the Study of Religion. Method and Theory in the Study of Religion 27: 333-360.
Meyer, Birgit and Terje Stordalen (2019) Introduction. Figurations and Sensations of the Unseen in Judaism, Christianity and Islam. In Birgit Meyer and Terje Stordalen (eds), Figurations and Sensations of the Unseen in Judaism, Christianity and Islam: Contested Desires. London: Bloomsbury. Pp. 1-18, 283-284.
Sherwood, Yvonne (2019) The Hypericon of the Golden Calf. In: Figurations and Sensations of the Unseen. Pp. 57-76, 284.
Uehlinger, Christoph (2019) Beyond 'Image Ban' and 'Aniconism': Reconfiguring Ancient Israelite and Early Jewish Religion\s in a Visual and Material Religion Perspective. In Figurations and Sensations of the Unseen. Pp. 99-123, 286-287
11.00-12.30 David Morgan: Material Analysis and the Study of Religion
Texts:
Morgan, David (2019) Assembling Inferences in Material Analysis. In Vasudha Narayanan (ed.), The Wiley-Blackwell Companion to Material Religion. Hoboken, NJ: Wiley-Blackwell.
Morgan, David (2018) How Images Work, chapter 2 in Morgan, Images at Work: The Material Culture of Enchantment. New York: Oxford University Press.
Morgan, David (2018) The Ecology of Images, chapter 4 in Morgan, Images at Work: The Material Culture of Enchantment. New York: Oxford University Press.
14.15: Introduction to the KNIR Library, by Janet Mente
15.15: Excursion, from KNIR.
Santa Maria del Popolo
San Luigi dei Francesi
Santa Maria Sopra Minerva
Piazza Navona
Wednesday May 22
09.00-12.30 (KNIR Aula)
09.00-10.30 Machteld Löwensteijn: The Council of Trent, Counterreformation 'Image Policy' and Michelangelo's Last Judgement in the Sistine Chapel.
Texts:
De Jong, Jan L. (2011) Cultivating Piety. Religious Art and Artists after the Council of Trent, in: Karl Eenenkel & Walter Melion (Eds.) Meditatio – Refashioning the Self (Intersections. Interdisciplinary Studies in Early Modern Culture, vol. 17). Leiden /Boston: Brill Publishers. Pp. 367-389
Prodi, Paolo (2012) Introduction to Gabriele Paleotti, Discourse on Sacred and Profane Images. Los Angeles CA: Getty Publications. Pp. 1 – 42.
Holt, Elizabeth G. (Ed.) 1958. A Documentary History of Art, 2 vols. New York: Double Day Anchor Books. Pp. 62 – 65
(translation to English of the Decree of the Council of Trent about the Sacred image (1563))
Clark, Stuart (2012) Angels of Light and Images of Sanctity. In: Jan Michielsen and Clare Copeland (eds), Angels of Light. Sanctity and the Discernment of Spirits in Early Modern Europe. Leiden: Brill. Pp 279 – 304
11.00-12.30 Annalisa Butticci: Afro-Pentecostal Renaissance. Raphael's Transfigured Christ and African Pentecostal Aesthetics of Presence and Power
Texts:
Butticci, Annalisa (2016) African Pentecostals in Catholic Europe. Harvard: Harvard University Press. (Introduction, pp 1-18; conclusion, 130-142)
Bolter, Jay and Richard Grusin (2000) Remediation. Understanding New Media. Cambridge, MA: MIT Press. Pp 21-63
Taussig, Michael (1993) Mimesis and Alterity. A Particular History of the Senses. New York: Routledge. Pp 1-18
14.00 leaving KNIR, 15.00 Visit Vatican Museum
Thursday May 23
9.00-12.00: Excursion
Chiesa de San Ignatio
Chiesa del Gesu
Santa Maria della Vitoria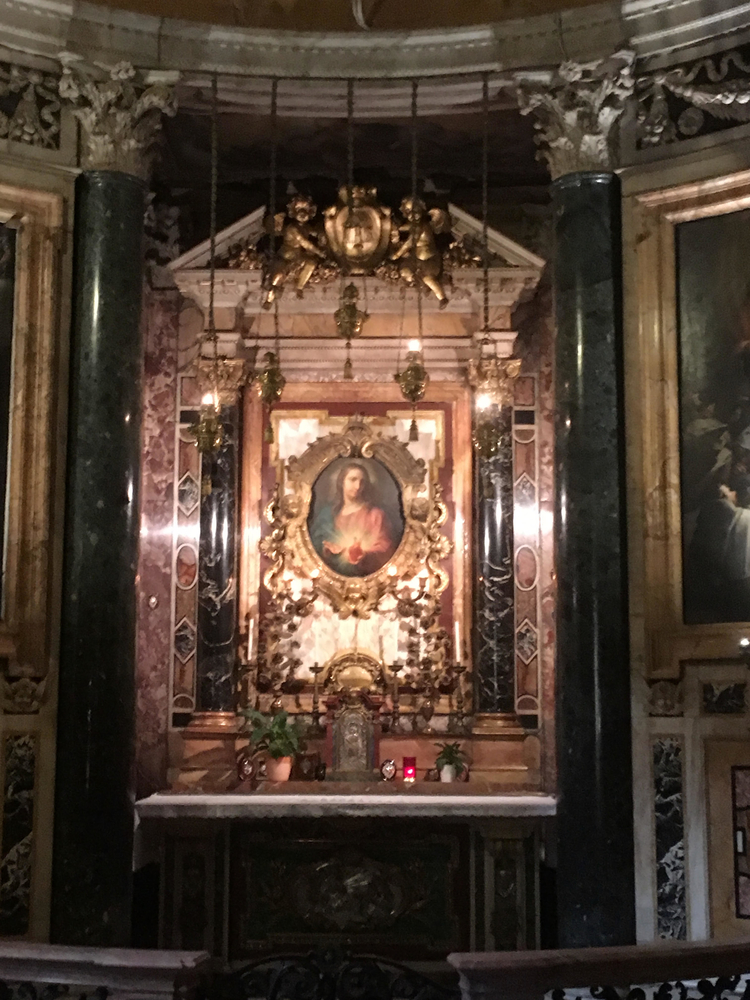 Sacred Heart of Jesus, Chiesa de Gesu
14.30-16.00 David Morgan: Baroque Aesthetics. The Sacred Heart of Jesus
Texts:
Morgan, David (2008) The Sacred Heart of Jesus. The Visual Evolution of a Devotion. Amsterdam: Amsterdam University Press.
Morgan, David (2015) The Forge of Vision: A Visual History of Modern Christianity. Oakland: University of California Press. (chapter 1)
Norderval, Øyvind (2019) From Ponte Sant'Angelo to Basilica di San Pietro: Figuration and
Sensation in Bernini's Pilgrimage Route in Rome. In: Figurations and Sensations of the Unseen. Pp. 213-228, 292-293.
18.00-20.00: Masterclass Salon, with Birgit Meyer (KNIR: Saloni), with drinks
21.00: Film – Pier Paolo Pasolini, La Ricotta (1963)
Friday May 24
09.00-10.30 Birgit Meyer: Idolatry and Blasphemy
Texts:
Latour, Bruno (2002) What is Iconoclash? Or is there a World beyond the Image Wars? in Latour, B. and P. Weibel (eds), Iconoclash: Beyond the Image Wars in Science, Religion and Art. Cambridge, MA and London: MIT Press. Pp 14-37.
Meyer, Birgit (2019) Idolatry beyond the Second Commandment: Conflicting Figurations and Sensations of the Unseen, in: Figurations and Sensations of the Unseen. Pp. 77-96, 285-286.
Meyer, Birgit (2018) The Dynamics of Taking Offense. Concluding Thoughts and Outlook. In Christiane Kruse, Birgit Meyer and Anne-Marie Korte (eds), Taking Offense. Religion, Art and Visual Culture in Plural Settings. München: Fink Verlag. Pp. 340-372.
11.00-12.30 Jojada Verrips: Imagery-Disgust-Offense
Texts:
Baumgartner, Christoph (2018) Is There such a Thing as an 'Offensive Picture'? In: Taking Offense. Pp. 315-337.
Verrips, Jojada (2018) A Brief Anatomy of Offensive Imagery. In: Taking Offense. Pp. 282-314
14.00-15.30 Pooyan Tamimi Arab: Pictures that Divide
Texts:
Flood, Finbarr Barry (2013) Inciting Modernity? Images, Alterities and the Contexts of Cartoon Wars, in Patricia Spyer and Mary Margaret Steedly (eds), Images That Move. Santa Fe: School for Advanced Research Press. Pp. 41-72.
Gruber, Christiane. 2018. Mystical Visions of the Prophet, in The Praiseworthy One. Indiana University Press. Pp. 140-197.
16.00: Excursion
Vila Borghese (modern references to antiquity)
Santa Maria Della Vittoria
Santa Maria degli Angeli e dei Martiri
Saturday May 25
Working on presentations (KNIR Library)
Sunday May 26:
Symposium
10.00-13.00 (KNIR Auditorium) Presentations
14.00-17.00 (KNIR Auditorium) Presentations
Monday May 27
Symposium
10.00-13.00 (KNIR Auditorium) Presentations, closing discussion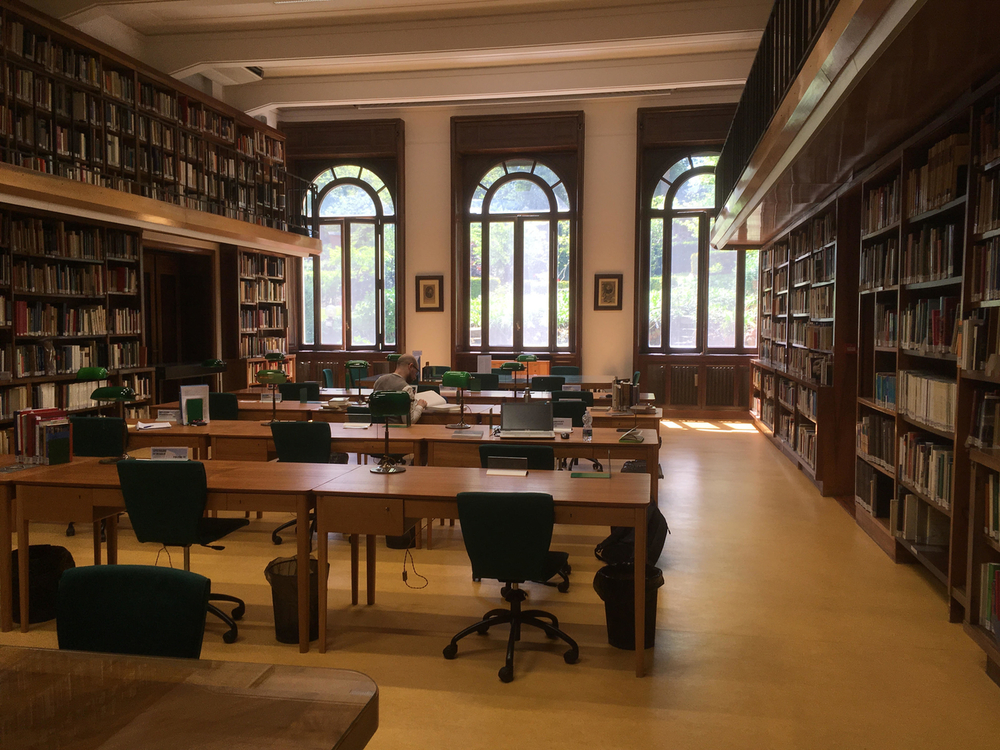 KNIR
Departure