Pooyan Tamimi Arab's monograph 'Amplifying Islam in the European Soundscape' has been published by Bloomsbury, and can be ordered here. 
Call to Prayer
Public manifestations of Islam remain fiercely contested across the Global West. Studies to date have focused on the visual presence of Islam – the construction of mosques or the veiling of Muslim women. Amplifying Islam in the European Soundscape is the first book to add a sonic dimension to analyses of the politics of Islamic aesthetics in Europe.
Sound does not respect public/private boundaries, and people experience sound viscerally. As such, the public amplification of the azan, the call to prayer, offers a unique opportunity to understand what is at stake in debates over religious toleration and secularism. The Netherlands were among the first European countries to allow the amplification of the azan in the 1980s, and Pooyan Tamimi Arab explores this as a case study embedded in a broader history of Dutch religious pluralism.
The book offers a pointed critique of social theories that regard secularism as all-encompassing. While cultural forms of secularism exclude Muslim rights to public worship, Amplifying Islam in the European Soundscape argues that political and constitutional secularism also enables Muslim demands for amplifying calls to prayer. It traces how these exclusions and inclusions are effected through proposals for mosques, media debates, law and policy, but also in negotiations on the ground between residents, municipalities and mosques.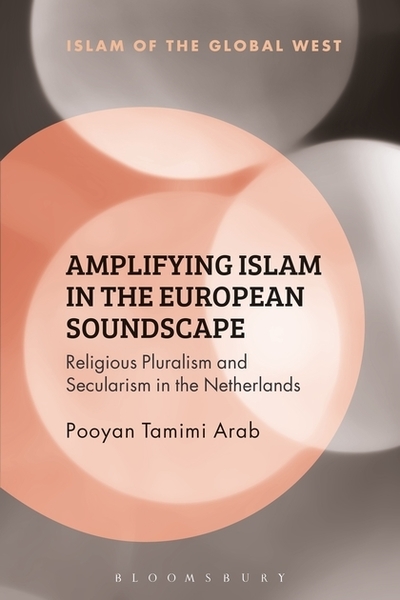 Table of Contents
List of Figures
Acknowledgements
Introduction
1. 'A Minaret of Light': Transducing the Azan?
2. A History of Public Worship: From Procession Prohibition to Amplified Azan
3. Conflicting Secularisms: Nativism and the Constitutional Protection of the Azan
4. Regulating Nostalgias: Azan Negotiations in a Dutch Town
Epilogue
Notes
Bibliography
Index
Reviews
"This is a book with a great sense of urgency. Written in a lucid, personal style, and drawing on insights from cultural anthropology, political philosophy, material religion studies, and art history, Pooyan Tamimi Arab offers a highly original, truly interdisciplinary contribution to our understanding of European secularism and religious aesthetics. This book will be essential reading for everybody interested in how Islam gradually but surely becomes an established religion in Europe." – Oskar Verkaaik, Associate Professor of Anthropology, University of Amsterdam, Netherlands.
"This is one of the most important books on Islam in Europe in the recent years. The author convincingly shows that amplifying Islam have become part of the 'politics of home', in which the native Dutch – defining themselves as secular- barely support equal treatment of religions in the public space. The author -always subtle, never judgmental- shows the deep ambivalences of today's secular Europe; the embarrassment of non-believers." – Jan Willem Duyvendak, Distinguished Research Professor of Sociology, University of Amsterdam, The Netherlands.
"Pooyan Tamimi Arab gives us a fine, detailed and sophisticated account of Dutch local and national debates over the advent of Islamic sound in public space, a development that tests tolerance still more acutely than does visual Islam." – John R. Bowen, Dunbar-Van Cleve Professor in Arts & Sciences, Washington University in St. Louis, USA.
"Religious pluralism is hard to accept when religion is largely a matter of belief but it is harder when it is predominately constituted by public practice. Pooyan Tamimi Arab's outstanding book shows just why this is so even in societies that espouse liberal values and toleration. Original and provocative, moving effortlessly from European philosophy to Islamic traditions, this book emphasises the sonic and audible dimensions of religion and opens up new possibilities of research on religion and the public sphere" – Rajeev Bhargava, director of the Institute of Indian Thought, Centre for the Study of Developing Societies, India.