Shaheed Tayob
The surge of right wing Hinduism in India is engaged in a violent politics of disgust centered around religion and food. Muslims are marked as the Other of the imagined Hindu nation and feature in the right-wing imaginary as butchers, criminals, dirty, and disorderly. This decades-old process has intensified since the 1990s as neoliberalism came to articulate anti-Muslim sentiment with notions of a sanitized, orderly, clean, city (Appadurai, 2000). In the past few months the urgency of this politics of exclusion has again reared its ugly head, through the BJP government plans to register exclusionary citizenship laws clearly designed to further abject the already impoverished population of Indian Muslims (Gayer and Jaffrelot, 2012).
Given the history of exclusion, continued attempts to marginalize the Muslim community, and genocidal rhetoric, it is no surprise that scholars identify a process of ghettoization (Gupta, 2015) whereby Muslims are excluded from infrastructural and civic services, which in turn reinforces their abjection in the public imaginary (Anand, 2012). Congested, poorly policed, and decaying Muslim neighborhoods are a common site in much of India. In Mumbai, this is all the more pronounced given the long history of cosmopolitan sentiment and the prominent role of Muslim traders, philanthropists and religious organizations in the making of the city (Green, 2011).
The politics of Muslims in Mumbai is firmly tied to the confluence of religion and materiality. Muslim areas are thought of as places of decay and disorder, butchering, excessive sexuality and violence. This abjection authorizes their exclusion from basic services, placing Muslim majority neighborhoods in the city under infrastructural pressure and decay. Known from the outside as 'little pakistan' (Mehta, 2012), foreign to the nation and subject to sacrificial expiatory violence (Ghassem-Fachandi, 2012). Indeed, this line of analysis clearly resonates with theories of disgust as an always political performance of othering, exclusion and hierarchy (Ahmed, 2013). However, through fieldwork and research, I became aware of a radical political potential of disgust, which resonates with the ethical-political action gripping India right now.
Attending the Bakri Id festival in 2013 I visited the Deonar abattoir. Bakri Id is the festival of sacrifice in Islam in India, also known locally as Qurbani ki Id. It is the day when Muslims around the world commemorate the willingness of the prophet Ibrahim and his son Ishmael to concede to Gods demand for a sacrifice. At the last minute, God intervened, saving Ishmael. A ram was slaughtered instead. In India, the practice of Qurbani has since the 19th century been subject to sustained attack as Hindu Nationalists framed it as offensive and anti-Hindu (van der Veer, 1994). Political tension during Qurbani is not uncommon, occasionally breaking out into anti-Muslim riots (Pandey, 1983, 2012).
However, for Muslims the practice of Qurbani is not designed as an offense on other religious groups. It is understood as an order from God incumbent on all financially able Muslims, a form of celebration and sharing, and an opportunity to spend time with sacrificial animals in a bid to form a relationship of care and love before sacrifice. This practice of care is central to Qurbani, as without care, the feeling discomfort necessary for sacrifice would be absent. Many people spend much time with their goats in the build-up to slaughter, forming bonds of intimacy. For those who have raised goats for months and years before sacrifice, the slaughter of the animal is a difficult process, ultimately linked to reflections on the ephemerality of worldly existence. The pain of the animal is not discounted, as ritual practices of slaughter clearly explain that the animal is to be spared from the knowledge of its impending fate by not witnessing other animals being slaughtered, the blood of previous slaughter and even the knife for sacrifice. Looked at carefully, the practice might not appeal to many people's sensibilities, but nevertheless cannot be discounted as mere cruelty (Tayob, 2019).
However, the practice of Qurbani in Mumbai faces infrastructural constraints. The Deonar abattoir facility has rarely been upgraded since its construction in the early 1970's, rendering it insufficient to cope with the crowds of people and animals during Bakri Id each year. This infrastructural neglect is not lost on Muslims in the city. On a visit to the Deonar abattoir in 2013 during Bakri Id I entered into conversion with Mukhtar, an IT professional, who soon became an important friend and informant in the city. He complained that his brother was nauseas from the heat and smell of the slaughter that day, also commenting that perhaps the animals too were uncomfortable from the lack of attention to the halal rules of slaughter. The problem with Deonar he explained, is that 'there is no order actually.' Mukhtar then commented that the infrastructural decay in fact rendered many aspects of Muslim ritual practice and everyday life impossible. This was not due to an innate Muslim propensity for violence, but rather an outcome of the neglect of municipal and infrastructural facilities.
Mukhtar and his brother experienced Deonar as 'out of place'. The feeling of unease in relation to the smells and sites, as well as the concern for the animals, did not however simply translate into a desire to expunge the practice from their lives. After all, as practicing Muslims they attributed a sense of value to the practice of slaughter and sacrifice beyond the morality of cruelty and murder. For them, the particular way in which these practices were managed in Mumbai and the lack of infrastructural facilities, is what rendered the practice of sacrifice as disgusting. Disgust here contained the potential to reveal the histories of civic and infrastructural neglect that render the proper and orderly practice of sacrifice impossible. I argue that this moment offers a view of disgust as embodied critique that is not about producing a relation of hierarchy, but rather one that contains the possibility to reveal the structures of power and inequality that render the very experience of disgust in the first place.
But what of this political potential of disgust outside of the slaughterhouse? It is yet to be seen what the outcome of the country-wide protests will be. However, one aspect of the protests that cut across the Hindu-Muslim community is a sense of absurdity at the political machinations, genocidal rhetoric, and idiocy of the ruling party. Here a sense of disgust towards the inconsistent statements and banal legal claims has turned into a powerful mode of ethical-political action. Disgust evoked by the exclusionary politics, and fumbling economic policies pierces the veneer of stability and order claimed by the BJP and Narendra Modi. Not as a claim to exterminate all BJP supporters, but rather to reveal their vindictive politics in order to imagine a different, inclusive political culture in India. Perhaps in a world of globally increasing inequality, and right-wing support, the politics of disgust as embodied critique may offer a powerful force for imagining alternative futures and new political horizons.
Bio:
Shaheed Tayob is a lecturer in the Department of Sociology and Social Anthropology at Stellenbosch University, South Africa. His research is primarily focussed on Islam with a special interest in food practices and human-animal relations at the intersection of religion, politics and economy in India and South Africa. During 2019, Shaheed has been a guest researcher of the Religious Matters programme in Utrecht, where he has been working towards a book manuscript on Islam, ethics and Muslim food practices in Mumbai. Sharing research and engaging in scholarly discussions with the team has been invaluable for thinking through questions of food, religion and coexistence.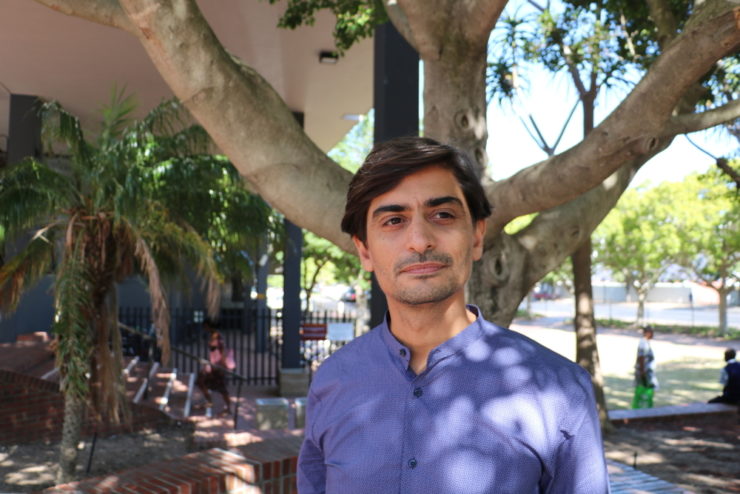 Bibliography
Ahmed, S. (2013) The Performativity of Disgust. (eds) The Cultural Politics of Emotion: New York, Routledge, pp. 256.
Anand, N. (2012) Municipal disconnect: On abject water and its urban infrastructures. Ethnography, 13 (4): 487-509.
Appadurai, A. (2000) Spectral Housing and Urban Cleansing: Notes on Millennial Mumbai. Public Culture, 12 (3): 627-651.
Gayer, L. & Jaffrelot, C. (Eds.) (2012) Muslims in Indian Cities: Trajectories of Marginalisation C. Hurst & Co., London.
Ghassem-Fachandi, P. (2012) Pogrom in Gujarat: Hindu Nationalism and Anti-Muslim Violence in India. Princeton University Press, Princeton, Oxford.
Green, N. (2011) Bombay Islam: The Religious Economy of the West Indian Ocean, 1840-1915. Cambridge University Press, Cambridge.
Gupta, R. (2015) There must be some way out of here: Beyond a spatial conception of Muslim ghettoization in Mumbai. Ethnography, 16 (3): 352-370.
Mehta, D. (2012) Words that Wound: Archiving Hate in the Making of Hindu-Indian and Muslim-Pakistani Publics in Bombay. In: Khan, N. (eds) Beyond Crisis: Re-evaluating Pakistan: New Delhi, Routledge, pp. 315-343.
Pandey, G. (1983) Rallying round the Cow: Sectarian Strife in the Bhojpuri Region, c. 1888-1917. In: Guha, R. (eds) Subaltern Studies: Delhi, Oxford University Press, pp. 60-129.
Pandey, G. (2012) The Construction of Communalism in Colonial North India. Oxford University Press, New Delhi.
Tayob, S. (2019) Disgust as Embodied Critique: Being Middle Class and Muslim in Mumbai. South Asia: Journal of South Asian Studies, link.
van der Veer, P. (1994) Religious Nationalism: Hindus and Muslims in India. University of California Press, Berkely and Los Angeles.