The widespread reuse of church buildings marks one of the major changes in the visible presence of religion in the Netherlands. The estimated rate by which church buildings are closing down in this country varies between two to as much as four churches a week.1 Some are demolished, but most of these buildings are preserved and converted for such uses as flats, theatres or restaurants (among many other purposes) or they are acquired by other religious groups, regularly Christian communities with a migration background and occasionally Muslims. These transformation processes evoke vivid public debates about proper and improper ways of reusing church buildings and about how to best safeguard this Christian material culture, now commonly framed as 'cultural heritage'.
These developments guided my decision to focus on the abandonment and repurposing of church buildings when I started my postdoctoral research in the HERA project Iconic Religion in 2014. This project, a cooperation between the universities of Bochum, Lancaster and Utrecht, explored how the tangible presence of religion in urban spaces shapes people's encounters with religion in Berlin, London and Amsterdam.2 From 2016, I had the opportunity to continue my research on the closing down of church buildings within the Religious Matters project. In these two projects, apart from broadly exploring the practices and debates around the closing down of church buildings, I conducted fieldwork at three particular sites, all (former) Roman Catholic churches: The Fatih Mosque in the former church The Sower in Amsterdam, the Chassé Church in Amsterdam, repurposed as dance studios and hotel, and Saint James Church (Jacobuskerk) in Utrecht, which was recently closed down and bought by an evangelical church. As I finished my research at Utrecht University in August (I have since moved to Edinburgh to take up a position at IASH), it seems a good moment to take stock of some of my main findings in these past years.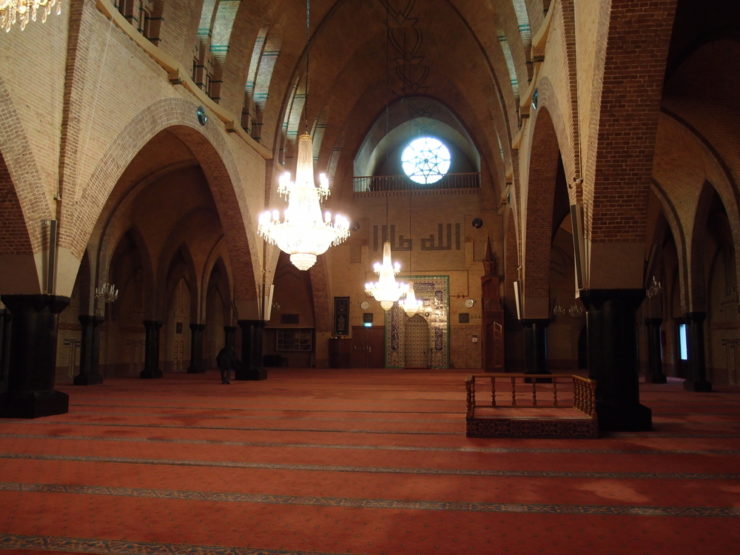 'This building is spiritually charged': Interior of the Fatih Mosque in Amsterdam
Broadly speaking, I have come to see that the closing down and conversion of church buildings do not merely signal a development of ongoing secularization or, more precisely, unchurching. These are more complex and multidimensional processes. Abandoned and repurposed church buildings often operate as cultural-religious nodes charged with multiple layers of history, memory and emotion. They tend to constitute focal points of debate about the place of religion in society as well as sites of cultural and religious innovation. I will elaborate on this here by addressing three main 'matters' that have emerged from my fieldwork on converted churches: entanglement, heritage and the notion of home. I am using the term 'matters' here in the double sense developed by Birgit Meyer within the Religious Matters project: it is taken to refer both to the tangible, material forms that play a central role in developments and conflicts in today's religiously pluriform societies, and to burning issues with respect to religion in these societies.
Entanglement
The conversion or repurposing of a religious site is never 'complete'. Something of the previous uses of the building always remains. These remnants tend to influence, shape and sometimes restrict the ways in which people engage with, and use, the converted site.3 Old and new practices, signs, forms and meanings become entangled, to varying extents, in repurposed church buildings. The Fatih Mosque in Amsterdam offers a fascinating example. Restyled and used as a mosque, it continues to be characterized by the iconic markers of the Catholic church – a material legacy that is, often viscerally, experienced by both members of the mosque community and occasional visitors. The mosque's spokesperson, for example, told me he feels that the building is 'spiritually charged'. The reason for this, he thinks, is that it is 'built with love and faith' by its original religious community.4 I have elsewhere described this sense of a lingering religious presence in terms of a 'sacred residue', which can be experienced in the atmosphere of a building, through people's memories or with respect to material forms that index the previous purpose of the site.5
The Fatih Mosque was also entangled with the history of its building in a different way. As Pooyan Tamimi Arab and I have described,6 because the mosque is housed in a former church and the building's original entrance has made space for a bike shop (the Muslim community closed off the entrance because it was positioned on the qibla, the direction of prayer) it is rather unrecognizable as a mosque.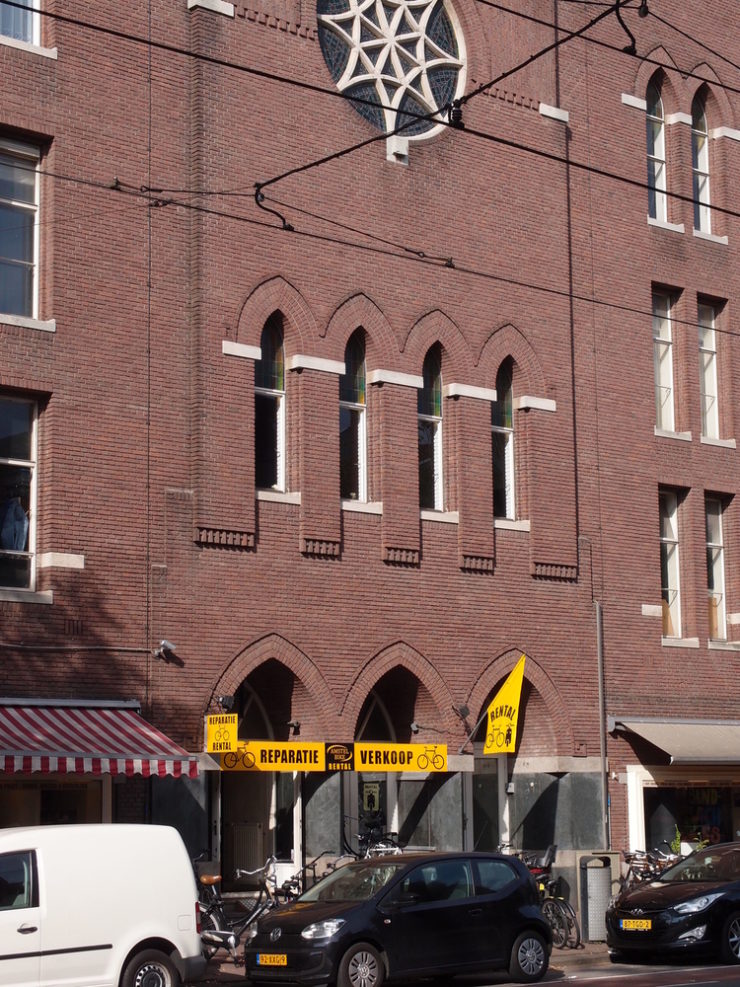 A 'hidden mosque': The Fatih Mosque in Amsterdam
As a result, it is often perceived and referred to as a 'hidden mosque', a term that builds on the discursive genre of 'hidden' houses of worship dating back to the clandestine churches of the Dutch Republic. In this way, we argued, the mosque has become entangled with the history of Catholicism in Amsterdam. The irony being that the proud and prominent early twentieth century church of a Catholic community, which had once congregated covertly on an attic, is now, in the early twenty-first century, seen by many as a 'hidden mosque'. It is worth noting here that the mosque's name refers to the Fatih Mosque in Istanbul, which was built by Mehmed II – nicknamed el-Fatih ('the Conquerer') – who conquered Constantinople in 1453 and converted the Haghia Sophia into a mosque.
Heritage
Closed down and repurposed church buildings play a pivotal role in current debates on the place of religion in the Netherlands, as in other predominantly secular societies. A recent and important trend in these debates is the discursive framing of – particularly Christian – religion as cultural heritage.7 What this entails is that the values ascribed to Christianity, in unchurching societies in the West, do not simply disappear but rather shift from an emphasis on beliefs, doctrines and institutions to one on history, art and identity.8 My fieldwork at the Chassé Church in Amsterdam provides a telling illustration of how this occurs in a particular local context.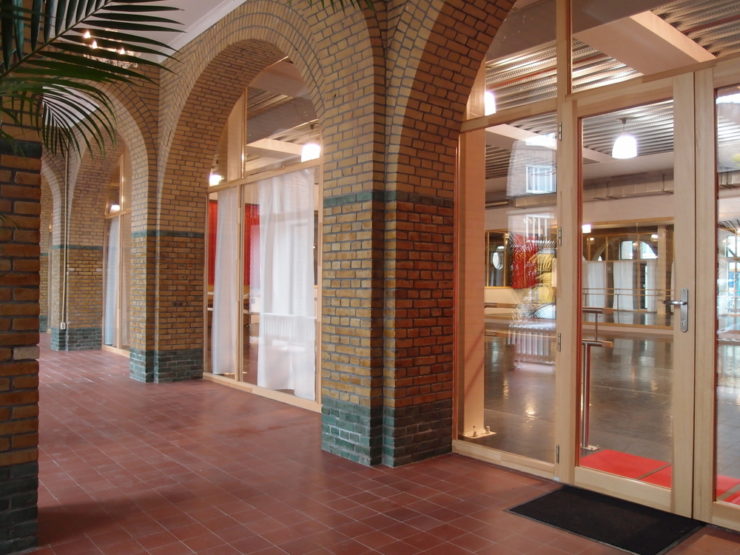 'When you demolish church buildings you also demolish your history': Chassé Church converted to Chassé Dance Studios
When the Chassé Church closed its doors in the 1990s due to dropping numbers of active congregants, the parish and diocese planned to demolish the building and sell the land. This instigated local residents to mobilize resistance against demolition of the building. What motivated them was not that they wanted to maintain the religious function of the building. In fact, most weren't churchgoers. Rather, they wanted to preserve the building not only as a familiar landmark in the neighborhood but also as a historical symbol. As the spokesperson of the local protest movement put it to me: 'The fact that church buildings have to close down is in itself not a bad thing. But it is a bad thing when you demolish these buildings, because when you do so you also demolish your history.'
More commonly, when churches in the Netherlands close down, non-churchgoing citizens and secular organizations are among the first to stand up and advocate the preservation of these buildings because of their cultural, monumental and historical value. In their perception, paradoxically, Christian institutions and communities occasionally jeopardize these attempts at preserving religious heritage, because they restrict the possibilities for its reuse or, at times, even set out to demolish parts of it. From the perspective of this heritage vanguard, Christian material culture has become an 'outside', a symbol of local or national identity. Lived faith, the 'inside', is not only separated from this material culture but also regularly perceived to endanger attempts at safeguarding it.9 This heritage discourse signals less the emergence of 'vicarious religion' (whereby ritual life is delegated to an active minority)10 than a particular mode of 'belonging without believing'.11 Its protagonists are people who often resolutely reject Christian doctrines and authorities, but embrace the significance of Christianity as cultural heritage.12
Home
During my fieldwork on abandoned church buildings in Amsterdam and Utrecht I repeatedly encountered notions of being at home and feeling at home. It became clear to me that a varied set of actors, all in different ways, construe church buildings as 'home'. This may suggest that material sites such as church buildings, and perhaps particularly abandoned or repurposed ones, play a significant role in what Jan Willem Duyvendak describes as a widespread quest for feeling at home in today's globalized societies.13 It is therefore instructive to extend Duyvendak's question 'why feeling at home matters'14 to 'how feeling at home matters'; while taking the verb 'matter' in a more literal sense. I found striking differences in the way church buildings come to mediate home-feelings for different groups of people, including, notably, (former) parishioners and neighborhood residents.
Many parishioners I have met talk about their (former) church as a second home. They not only experience their church as a spiritual home, connected to the Catholic conception of churches as 'houses of God', but also, and perhaps even more so, as a communal home. Their relation with the church is local and social by nature. To them, church buildings foster feelings of familiarity and intimacy, infused as they are with cultural histories and personal memories.15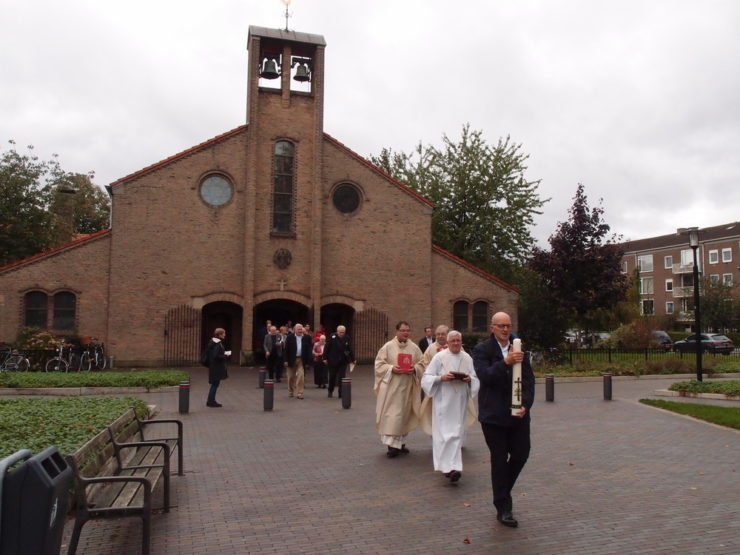 'This hurts': Procession from the Jacobuskerk after its closure in 2017
These memories often index people's earlier embodied relationships with these sites: 'Many steps of mine lie here,' a former parishioner of the Chassé Church remarked as we walked through the building. This deep personal engagement makes processes of church closure extraordinarily painful for many of those involved. 'This hurts', an elderly parishioner told me during the desecration of the Jacobuskerk. 'I have buried my wife here'.
In some cases, this experience of the painful loss of a home contrasts sharply with the way neighborhood residents, who are not – or sometimes lapsed – Christians, perceive the repurposing of a local church. For many neighbors of the Chassé Church, for instance, the converted building rather signifies the return of a home. They regard the Chassé Dance Studios as a place that brings back life, safety and social cohesion to their neighborhood (De Baarsjes in West Amsterdam). As a local politician put it during the formal opening of the site: 'This has become the living room of the neighborhood.' These feelings are strengthened by the senses of local familiarity and 'being at home' that people connect to the church building. For many local residents it fosters feelings of local belonging and togetherness that, while largely detached from the former church community and its ritual life, are much desired in a neighborhood that has seen rapid changes in recent decades, including an aging population, urban degradation, immigration and, more recently, gentrification.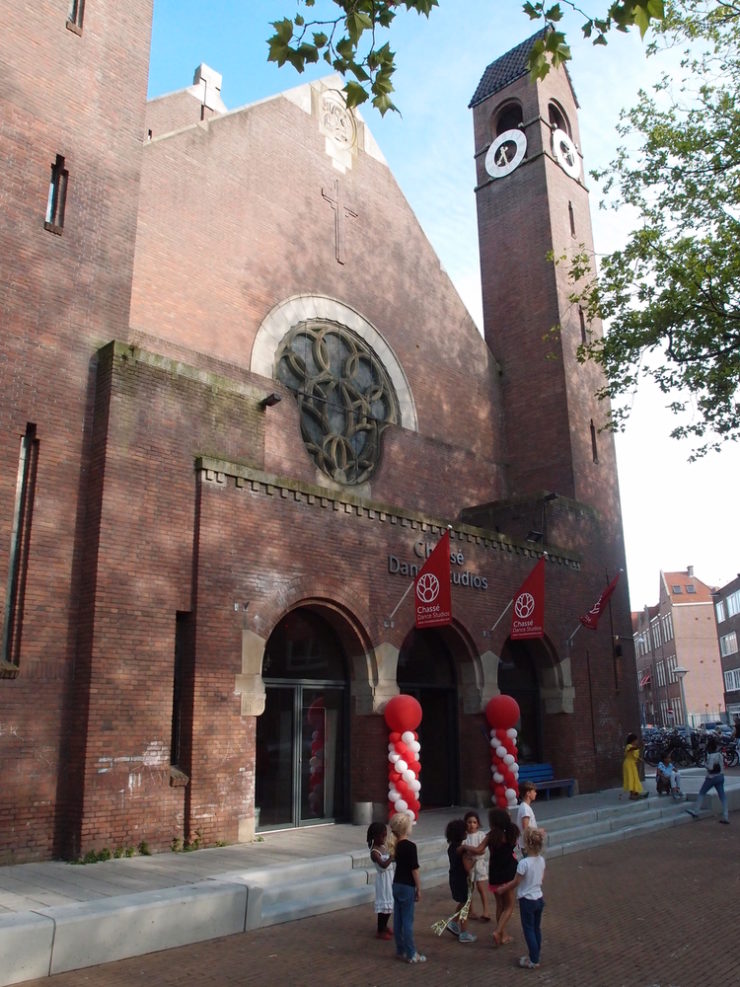 'This has become the living room of the neighborhood': Chassé Dance Studios on the day of its official opening in 2017
Arguably, these local quests for cohesion and home-feeling are part of what fuels the above-mentioned reappraisal of church buildings as cultural heritage and associated debates on local and national identity.
One could perhaps say that all of these matters emerging around the abandonment and repurposing of church buildings point to the 'surplus' of these sites, the extra they perform beyond being former places of worship and religious congregation. This extra can entail a 'sacred surplus',16 but it can also include historical, social and political modes of signification. Converted churches, indeed, operate as a kind of multifaceted containers of affectively charged debates on religion, identity, heritage and home-feeling. They are much more than piles of stone. They bring to the fore remarkable and often puzzling matters that are at the heart of current concerns with religion in today's pluriform societies – matters that I hope to explore further during my stay in Edinburgh.
Daan Beekers is a postdoctoral research fellow at the Institute for Advanced Studies in the Humanities at the University of Edinburgh. All photographs shown here are taken by him.
Notes
1 Daan Beekers, "De waarde van verlaten kerken," in Gods huis in de steigers: religieuze gebouwen in ontwikkeling, by Oskar Verkaaik with Daan Beekers and Pooyan Tamimi Arab (Amsterdam: AUP, 2017), 163.
2 Kim Knott, Volkhard Krech, and Birgit Meyer, "Special Issue: Iconic Religion in Urban Space," Material Religion 12, no. 2 (April 2, 2016). One of the outputs of the Iconic Religion project was the exhibition 'The Urban Sacred: How Religion Makes and Takes Place in Amsterdam, Berlin and London', which was shown in several cities and also reproduced digitally.
3 Compare Yael Navaro-Yashin, "Affective Spaces, Melancholic Objects: Ruination and the Production of Anthropological Knowledge," Journal of the Royal Anthropological Institute 15, no. 1 (March 1, 2009): 1–18; Robert M. Hayden and Timothy D. Walker, "Intersecting Religioscapes: A Comparative Approach to Trajectories of Change, Scale, and Competitive Sharing of Religious Spaces," Journal of the American Academy of Religion 81, no. 2 (January 6, 2013): 399–426.
4 Daan Beekers, "Rode burcht, jezuïetenkerk, moskee," in Gods huis in de steigers: religieuze gebouwen in ontwikkeling, by Oskar Verkaaik with Daan Beekers and Pooyan Tamimi Arab (Amsterdam: AUP, 2017), 193–217.
5 Daan Beekers, "Sacred Residue," in The Urban Sacred: How Religion Makes and Takes Place in Amsterdam, Berlin and London/Städtisch-Religiöse Arrangements in Amsterdam, Berlin und London, ed. Susanne Lanwerd (Berlin: Metropol, 2016), 39–41.
6 Daan Beekers and Pooyan Tamimi Arab, "Dreams of an Iconic Mosque: Spatial and Temporal Entanglements of a Converted Church in Amsterdam," Material Religion 12, no. 2 (April 2, 2016): 137–64.
7 Avi Astor, Marian Burchardt, and Mar Griera, "The Politics of Religious Heritage: Framing Claims to Religion as Culture in Spain," Journal for the Scientific Study of Religion 56, no. 1 (March 1, 2017): 126–42.
8 See for example Elayne Oliphant, "Beyond Blasphemy or Devotion: Art, the Secular, and Catholicism in Paris," Journal of the Royal Anthropological Institute 21, no. 2 (June 1, 2015): 352–73; Rogers Brubaker, "Between Nationalism and Civilizationism: The European Populist Moment in Comparative Perspective," Ethnic and Racial Studies 40, no. 8 (2017): 1191–1226; Ernst Van den Hemel, "The Dutch War on Easter: Secular Passion for Religious Culture & National Rituals," Yearbook of Ritual and Liturgical Studies 33 (2017): 1–19.
9 Beekers, "De waarde van verlaten kerken," 186.
10 Grace Davie, "Vicarious Religion: A Methodological Challenge," in Everyday Religion: Observing Modern Religious Lives, ed. Nancy T. Ammerman (Oxford and New York: Oxford University Press, 2007), 21–35.
11 Danièle Hervieu-Léger, Religion as a Chain of Memory, trans. Simon Lee (Oxford: Polity Press, 2000).
12 In his forthcoming book, provisionally entitled Regulating Difference: Religion and Nationhood in the Secular West, Marian Burchardt describes a very similar group of actors – rejecting Christian doctrines but embracing Christian heritage – in Quebec.
13 Jan Willem Duyvendak, The Politics of Home: Belonging and Nostalgia in Europe and the United States (Houndmills and New York, NY: Palgrave Macmillan, 2011).
14 Duyvendak, chap. 2.
15 Compare Barry Stephenson, "'I Have a Brick From That Building:' The Deconsecration of Highgate United Church," Practical Matters 8 (2015): 5–15.
16 Kim Knott, Volkhard Krech, and Birgit Meyer, "Iconic Religion in Urban Space," Material Religion 12, no. 2 (April 2, 2016): 123–36.