On 15 and 16 June 2023, the German Lost Art Foundation organised a workshop in Berlin focusing on 'Defining Missionary Collections and Collecting'. The Department for Cultural Goods and Collections from Colonial Contexts, directed by Larissa Förster, invited the working group on missionary collections, led by Jan Hüsgen and Markus Scholz. The group brings together scholars from different disciplines dealing with missionary collections and collecting activities, and the entanglement of missions with colonialism. While currently working on a possible definition of missionary collections and collecting, they invited the 'Heritage and the Question of Conversion' team (Ana Rita Amaral, Marleen de Witte, Amélie Roussillon, Birgit Meyer and Peter Pels, part of the Pressing Matter project) to contribute to the workshop and to exchange on their ongoing research on the topic.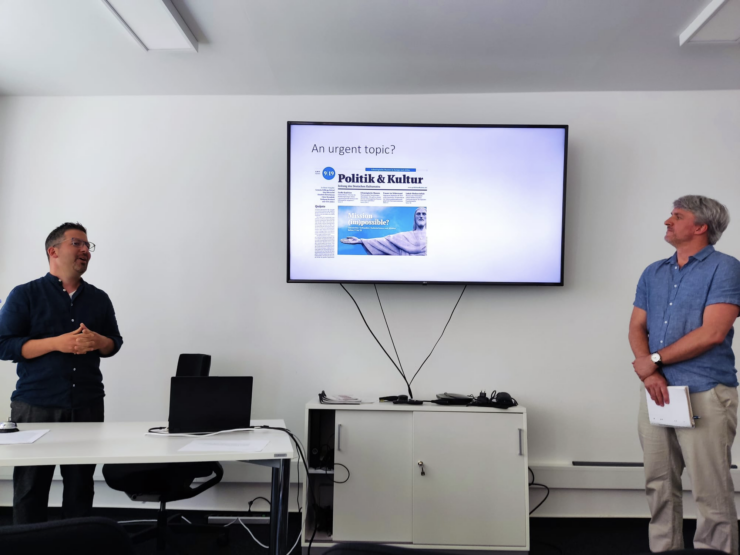 The workshop was structured around three main axes. First, it questioned the institutional nature of missionary collections, the aims and politics of acquisitions and displays for mission museums, and the possible framing of missionary collections as colonial institutions. A number of points were raised, among others: is there a qualitative difference between Catholic and Protestant missionary collecting? How did missionaries relate to the broader colonial project, and what role did missionary collecting play as part of a complex set of actions and processes that were part and parcel of colonialism? How much were missionary orders and societies committed to scientific investigation? How did the training of missionaries influence their collecting activities? What are contemporary perceptions of the relationship between missionaries and colonialism, both in Europe and within communities from which these collections originate? Within this first panel, Ana Rita Amaral shared her reflections on the collections assembled by the missionaries of the Congregation of the Holy Spirit in Angola during the colonial period, now preserved by the National Museum of World Cultures in the Netherlands. Her presentation focused on the institutional dimension of missionary collections and collecting, and asked whether the training and specific spiritual doctrine may have influenced the way in which missionaries collected. Paul Voogt (Missiemuseum, Steyl) reflected on the notion of 'mission trophies' and their trajectories, with the particular case study of some Papuan over-modelled skulls from the Sepik region of Papua New Guinea acquired by SVD missionaries. Finally, Romy Köhler (Deutsche Digitale Bibliothek) and Markus Scholz (Institut für Weltkirche und Mission, Frankfurt) shared their work on the Bavarian Capuchin mission museum in Altötting and its musealisation of the Mapuche people and material culture from the Araucanian region of South Chile until its closure in 1988.

The second axis of discussion focused on praxeology, questioning the modes, manners and motives of missionary collecting. Among the main points of discussion then raised were the issue of the agency of different actors in the collecting process, and the importance of the broad time frame and geographical contexts within which missionaries operated (and still operate). The notion of violence as central to the conversion process was also brought up. Thomas Ruhland (Martin Luther University Halle-Wittenberg) first presented his research on missionary collecting and natural sciences, focusing on the Moravian Church and its collecting activities of natural history specimens since the mid-18th century, and their dissemination through a wide scientific and commercial network. Jan Hüsgen (German Lost Art Foundation) then shared his insight in the work of the Moravian Church in Suriname, and how reactions to missionary collecting practices can be made visible by trying to overcome the dominance of missionary and colonial archival narratives. Marleen de Witte contributed to this panel with her paper on the acquisition of items by Dutch missionaries of the Congregation of the Holy Spirit through the European market in 'ethnographic' or 'tribal' art. Challenging the assumption that missionary collections were limited to items acquired by missionaries while working 'in the mission field', she addressed missionary collecting 'at home' through secular dealers and the entanglement of such practices with the international trade in African art, and its consequences on the conversion of these items into art commodities.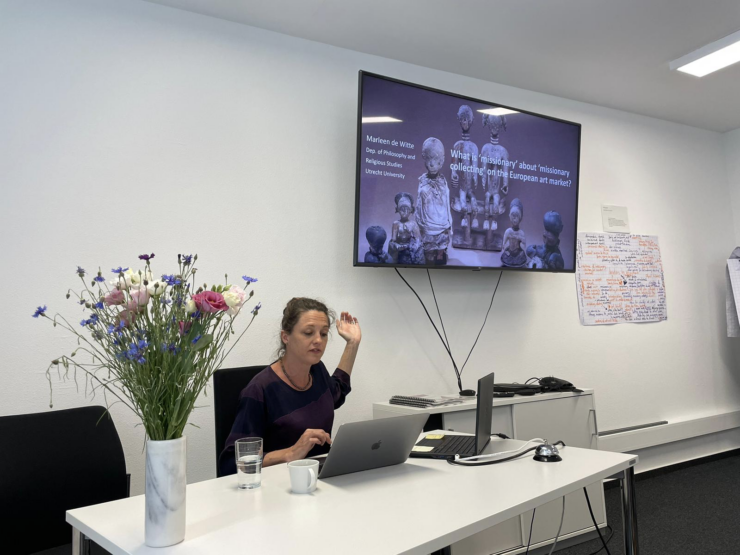 Julia Binter (University of Bonn) then reflected on the return of 23 cultural belongings by the Ethnologisches Museum in Berlin to Namibia, among which 8 could be traced back to missionary contexts. Binter pointed out how the histories and ongoing legacies of the mission are affecting the process of reconnection of these items with the communities, artists and scholars in Namibia. She enjoined us to not only adopt a post-colonial stance, criticising colonial entanglements, but to engage in a truly decolonial practice, opening up questions and highlighting other perspectives and agencies when engaging with missionary collections in the present. This panel was concluded by a joint presentation by Nicole Rumert and Mai Lin Tjoa-Bonatz (Forum der Völker, Werl) on a collection of items from China acquired by Franciscan missionaries for their mission museum in Werl, questioning the Franciscan ideal of poverty and its (sometimes paradoxical) articulation with their collecting practices.

Finally, the workshop's third axis of reflection addressed indirect missionary collections, i.e. collections from missionary contexts that may not be evident at first sight, found in other institutional settings, for example in ethnographic or natural history museums. Many interrogations arose, among which: when do collections become 'indirect', and how many steps in their trajectory between different hands/institutions lead to this 'indirectness'? What about objects produced for sale, commissioned or created under a missionary incentive? How can we trace the cosmos of mission stations as places allowing for collecting dynamics, not only for missionaries but also for other (colonial) collectors? Amélie Roussillon first presented her research on missionaries of the Utrecht Missionary Society who, beyond and alongside the collections that they acquired in former Dutch New Guinea for their mission museum in Utrecht, also acquired items and natural specimens on behalf of other colonial institutions, such as ethnographic and natural history museums, but also scientific expeditions. She examined how these collections can be traced and linked to missionary contexts, and how they can in turn help us understand the role of missionaries within the broader international and cross-disciplinary network of colonial actors.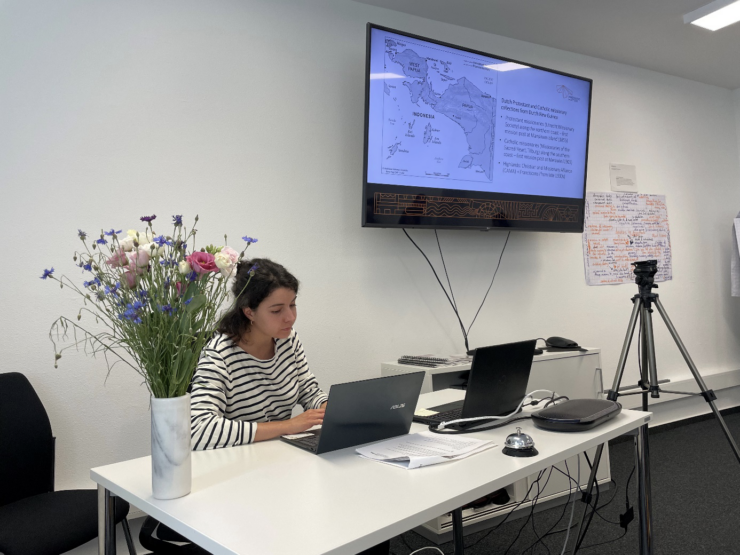 Mareike Späth (Landesmuseum Hannover) also shared her ongoing search for traces of missionary relations within the ethnographic collections of the Landesmuseum Hannover, and the strategies she implements in order to highlight these connections to missionary contexts. Späth also encouraged us to reflect on what differentiates items collected within a missionary context from other, non-missionary-related items in the museum collection. Instead of focusing on the boundaries thus created between different modes of acquisition and types of collections, she insisted on what these items can tell us about the nexus between missionary and non-missionary realms, in particular the intersection between missionary work and ethnology. The last paper of the workshop was presented by Henriette Lavaulx-Vrécourt (Ethnologisches Museum Berlin) on how to deal with donations from missionary contexts, looking at the concrete case of donations to the museum by relatives of people who were once active as missionaries in East Asia.
After this wealth of presentations and case studies, the final discussion tried to bring together thoughts on what should be taken into account in a definition of missionary collections and collecting. It was reminded that no other agents crossed as many boundaries as missionaries, who operated not only as theologians, but also as linguists, ethnologists, medical doctors, teachers, scientists, traders, etc. As such, collections and collecting practices related to missionary infrastructures should be envisioned as complex processes. The case of the ongoing activities of missionaries was also raised, with not only the work of mission museums in Europe but also in former colonies, and the role of mission posts as heritage sites themselves. While it was acknowledged that such a definition would remain a fragile cloud, expanding in every direction and time span, it was also pointed out that a definition would be needed in order to establish what distinguishes missionary collections from other collections (while also avoiding the creation of too strict boundaries) and to sensitise to the complexity of missionary collecting stories and contexts. To conclude these fruitful two days of discussion, international collaboration between researchers and museum professionals was foregrounded as essential in the recognition of missionary collections as an intricate yet often neglected part of colonial histories and legacies.
Amélie Roussillon is a postdoctoral researcher part of the Pressing Matter project, working on collections acquired by Dutch missionaries in Dutch New Guinea.